VENICE- The husband and wife who started Haaven – a shared housing, peer and community-focused living organization --and is responsible for putting the roof over more than 200 formerly unhoused residents is pushing back after they say they offered housing to more than 20 people near the Westminster Elementary School and were rebuffed by Councilmember Mike Bonin's office.
The housing would be rooms through both Haaven and SHARE! Collaborative Housing-- a public-private organization providing affordable, permanent supportive housing to people in single-family houses throughout Los Angeles County. 
Heidi Roberts and her husband John Betz—said there has been a growing concern with an encampment near the elementary school and the Westminster dog park which is why they reached out to SHARE! Board president and Venice resident Brian Ulf to see if they had any open beds and to see if they could help. Durig their discussion--Ulf told Roberts he believed he had 20 beds. 
SHARE! Currently has 39 homes throughout Los Angeles. At anytime there are 20-30 vacancies. 
Coming to a head
After reaching out to Ulf, Roberts attended a Zoom call with Venice A Bridge Housing point person Dexter O'Connell to discuss the growing and dangerous encampments in their neighborhood adjacent to Westminster Elementary School.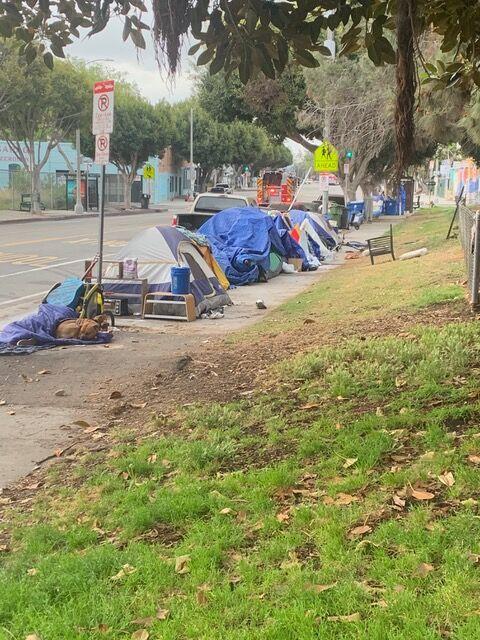 O'Connell told the neighbors on the call that nothing could be done about situation that had generated numerous letters to Bonin's office detailing homes vandalized on Clubhouse drive and nightly police and paramedic calls to revive the overdosing and break up fights until there was permanent, supportive housing available in CD11 for all of the unhoused in Venice. 
During the call Roberts (who provided the Current with a recording of the call) said: "So school starts next week, Dexter, and there will be lots of kids heading back to it--there are two tents and one man who you know is violent... he's had the police there constantly...and his van is parked right outside of the preschool's playground... he's actually set up on the fence of the playground."
Roberts when on to say: "We've got neighbors who live near us, who go to that school--they can't even walk their kids to school anymore. So, this needs to be our priority. You have people camped along the fence who are actively committing home invasions. We have now sourced housing for you. We know you have the money; you just shared that. So there really is no reason not to move that entire encampment."
O'Connell replied, "[Brian] Ulf has that money." Ulf had told Roberts when she reached out to him that he would need authorization directly from the Councilman's office, along with the necessary discretionary funds, for him to house the campers on Westminster.  
"No, he doesn't," Roberts replied. "It hasn't gone yet...You need to call Brian, make this happen, they're ready to go out with outreach now."
O'Connell, responded saying: "Right! They have the money for 40 more people; they can do that right now. They should." 
O'Connell was referring to a contract SHARE! had recently received from LAHSA to address a small downtown encampment specifically. But SHARE! couldn't legally use those dollars in Venice. 
Roberts was [urgently] requesting that the Councilman make use of his discretionary funds and the beds being offered to clear what she said are  dangerous encampments around the elementary school -- just as Councilman O'Farrell had done when he used his office's discretionary funds to clear encampments around Echo Park. Ulf said SHARE! was even willing to do outreach to the encampments [something they don't usually do] if given the green light from the CD11 office.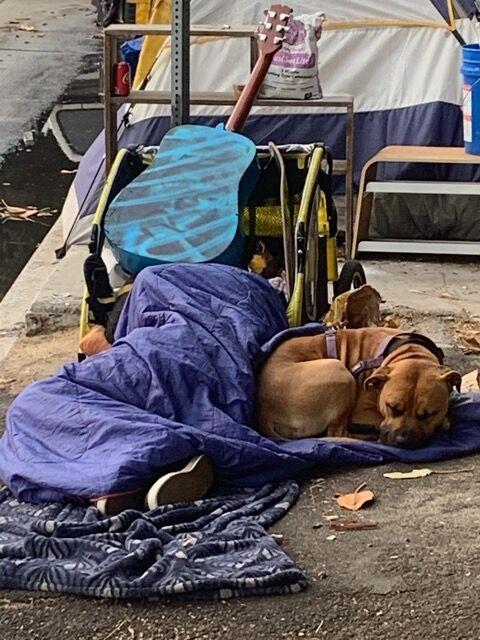 Roberts persisted, "I'm asking that you go ahead and tell [Brian Ulf] that that's a priority. You're being recorded so, I'm happy to share this with him. And can I go ahead and let him know?"
"You're free to share this with him, Heidi," O'Connell said. "He has the money to house 40 people, and if he'd like to prioritize Westminster School, that would be great."  
Roberts said she became frustrated with his deflections, adding, "I think you need to be on notice... One of the things I shared with our neighbor who had the home invasion is, I asked them, had they warned you about this? And they said no. But now we're going to let you know that the next time it happens, you have been warned."
Roberts' husband, John Betz, interjected, "This has to be an effort...you can't just hoist it off on SHARE! and say, 'let them do it.' The city needs to get involved, Dexter. There are other pieces to this puzzle to move those people off the street."
There was a long pause, and then O'Connell said, "Well, that's the solution you proposed in this case."
"The solution we proposed," Betz stated, "is that we're offering a source of housing for the city because you said you didn't have housing. It is your responsibility as the city to deal with this problem outside of an elementary school. You're telling me, 'there's no housing'. We're telling you, there is housing." 
The conversation continued. O'Connell insisted that LAHSA's Venice outreach team was "one of the heaviest" and was conducting intensive outreach in Venice daily, even though Heidi said she had only seen LAHSA occasionally distributing power bars and water in her neighborhood.
O'Connell continued to insist there was "no housing," stating: "There's not that much housing available on the Westside. And there's certainly not enough to house all of the people who are unhoused in Venice. So the situation is that if somebody ambushes you with an offer that's made in bad faith, it's challenging to be able to take that up immediately." Both Betz and Roberts were quick to point out that their offer was not made in bad faith, but in fact, reflected 20 available beds that could help remedy an increasingly desperate and dangerous situation. O'Connell replied that he would "talk to SHARE!, and I will see if anything can be made of your bad faith offer".  
"It's not going to happen," he said, "because it poisons the well." 
The call abruptly ended when O'Connell hung up on Roberts and her neighbors.  
Roberts said her take away was that she had made a concrete offer of [actual] beds for the unhoused to Bonin's office, and they [Bonin's office] had refused them in a way that was "insulting, inexplicable and -- in light of a tragic fire that two weeks later claimed the life of her neighbor's beloved dog -- ultimately constituted a reckless dereliction of duty." 
Roberts, who is working on the Bonin recall, said she believes she has a moral imperative to get Bonin (who she had just five years ago considered a like-minded friend when she was working with him on an initiative to end homelessness in Venice called Venice Forward) out of office before he did more harm, rather than simply wait for his term to expire.
The Venice Current reached out to Ulf to ask about the call and the conversation with Roberts. Ulf said that:" I personally give Bonin credit for his support of SHARE! and the immediate scalability of ours or other shared housing programs."