VENICE- A new report by Los Angeles Controller Ron Galperin shows a lot of trash is piling up.
Illegal dumping of trash, debris, and hazardous items in Los Angeles' public areas increased 450 percent between 2016 and 2020. "Public spaces meant to be used by everyone are being abused by too many," Galperin said. "Businesses and individuals are illegally dumping thousands of tons of trash, debris and hazardous waste on our sidewalks and streets, lessening the quality of life nearby. 
It's a startling statistic but one that didn't come as a surprise to Rick Swinger, who started a Facebook group in 2016 directed at illegal dumping. "I saw the illegal dumping right outside my window in front of Public Storage," said Swinger. "I saw someone dump trash in front of a No Dumping sign." Curious about the impact, Swinger said he investigated. "I discovered there was a storm drain that went from 3rd Avenue right to the ocean."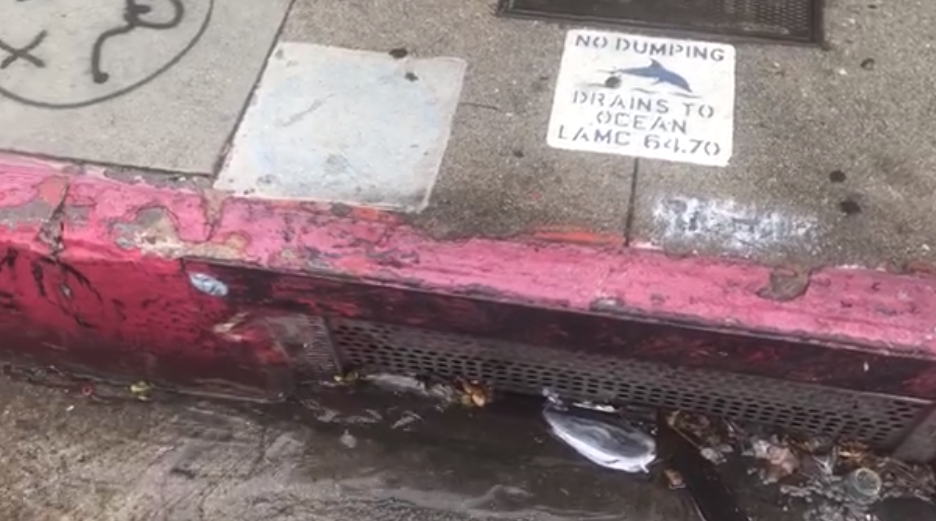 Swinger said at the edge of the pond was a little yellow bucket. "I knew it belonged to a child." That motivated Swinger to start "Stop Illegal Dumping in Venice Beach," a Facebook page that [now] has almost 4,000 followers. Followers who are just as passionate about preserving and protecting the environment as Swinger. 
"We see the impact on the beach and wildlife," said Swinger. It's not just the environment impacted, however. "We know as a result of the dumping, diseases like Hepatitis A take place. When kids are young, their immune systems are just developing--this can be lethal."
According to Galperin's report, "Piling Up: Addressing L.A.'s Illegal Dumping Problem," the L.A. The Bureau of Sanitation struggles to keep up with the increasing amount of waste dumped on L.A. sidewalks, streets and alleyways. The report identified the amount of solid waste picked up by sanitation crews increased from 9,200 tons in 2016 to 14,500 tons in the first eight months of 2020.
An open records request submitted to the Bureau of Sanitation by the Venice Current for similar data specific to Venice has yet to be fulfilled. Data we did receive just for February of 2021 showed 80 pounds of human waste and 10 pounds of hazardous waste were collected in the Venice A Bridge Home zone during one [voluntary] cleanup. Also noted during the cleanup was the existence of eight health hazards (it's unclear what they were) and 30 ADA violations. On the Boardwalk, 65 pounds of human waste and 25 pounds of flammable, combustible material were collected.
"That's just the tip of the iceberg," says Swinger. "Most of what's left is going into the ocean. The amount of waste material that is left behind is a lot higher."  
Swinger and Galperin agree that the L.A. Bureau of Sanitation's resources and staff are spread too thin because it is charged with handling illegal dumping and cleanups of homeless encampments. "This is creating third world conditions and allowing above-ground sewer in a first world country," said Swinger. 
In an unrelated press conference on Wednesday, Mayor Eric Garcetti said the city would work to address the problem by tripling the number of public trash cans that get regularly emptied and by deploying proactive teams into areas that have regular illegal dumping. 
Swinger says it's not just about adding trash cans; they have to be the right kind. "Mike Bonin has been delivering these old-fashioned trash cans. They don't work to protect the community because food waste goes in them and rats have access," Swinger said. "It's a concern shared by the Department of Public Health who has been out here testing for rats and diseases associated with them. We need tight fitted lids on trash cans," said Swinger.  
Swinger also said when the sanitation does come to clean, the area efforts are often stopped or slowed down by activist who "are doing more harm than good." "A lot of people who live on the sidewalks are hoarders. New groups who stop cleanups are making the problem worse for everyone." 
Galperin is recommending that the city:
increase the number of illegal dumping cleanup crews
reorganize the Bureau of Sanitation' enforcement and investigations unit and add more surveillance cameras
establish a working group tasked with coordinating enforcement against illegal dumping 
increase fines for people who are caught illegally dumping and increase oversight of commercial trash consumers and construction projects
create a public awareness campaign to educate the public on the impact that illegal dumping  has on neighborhoods, and highlight free and low-cost trash disposal services.
The entire report can be read at lacontroller.com/illegal dumping.