WESTSIDE -The westside could soon be seeing a lot more of the Los Angeles Sheriff's Department. 
During a town hall meeting on Monday, hosted by Beaches and Parks 4 All, a non-profit group fighting for public access to beaches and parks, L.A. County Sheriff Alex Villanueva told attendees that the County is doing inventory on all 3,100 square miles of the County to assess encroachments of public space by homeless encampments. Adding, the department will have a plan to start regulating public spaces "come Wednesday ".
The primary topic of Wednesday's meeting was maintaining access to public space, something the Sheriff said has to be done with law enforcement. 
Krishna Thangavelu, an organizer for Beaches and Parks 4 All, started the meeting by saying she was new at public activism but felt it necessary after Councilmember Mike Bonin's proposal to use public parks and beaches for homeless housing. 
"People are concerned about public access to our parks and beaches," said Thangavelu. "We realize now that we have to be political because we are passionate about people's rights to access public spaces."
Santa Monica residents have also been talking to Villanueva about solutions to safety and public spaces. In a recent report by the Santa Monica Daily Press, private property and business owners who are frustrated with the City's [Santa Monica's] response to homelessness and crime have floated the idea of hiring the Sheriff's Department to act as supplemental security in the Promenade area.
Sheriff Villanueva toured Downtown Santa Monica on July 6 with a group of the stakeholders offering suggestions on actions they could take to address issues around crime, homelessness, and trash.
According to property owner John Alle, one of these suggestions was to hire Sheriff's deputies to patrol select areas of Downtown and augment the security efforts of the Santa Monica Police Department. 
Alle, who is suing the City over maintenance of the Promenade, has been complaining for months about the number of unhoused individuals who camp in the elevators, stairways, and cars within Downtown parking lots. 
Like in Venice, city officials were not informed of Villanueva's visit in advance and said they were surprised to learn about his tour.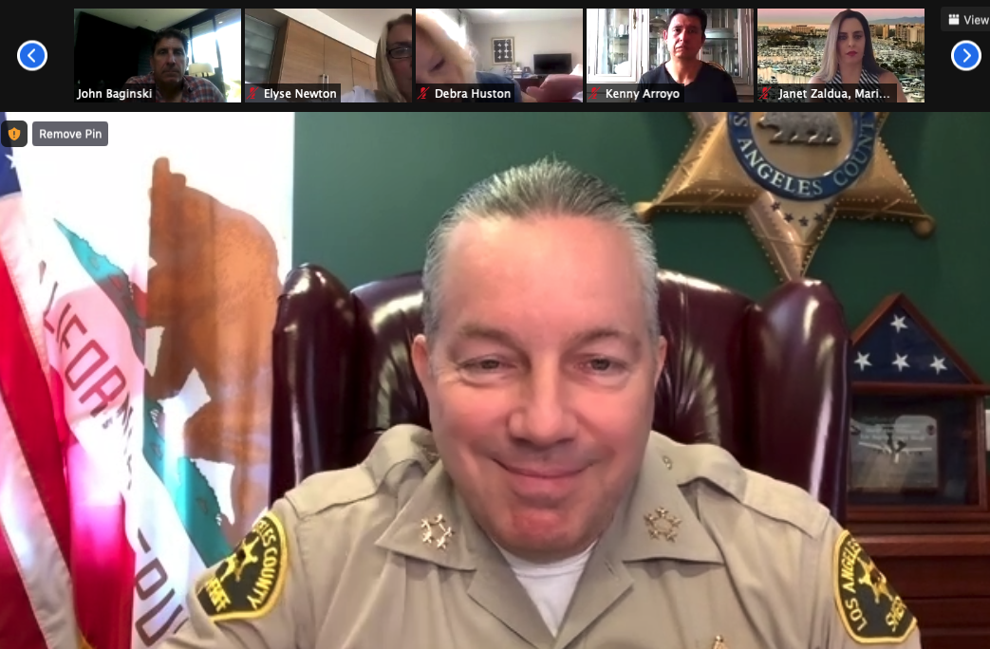 Villanueva told attendees on Wednesday: "We're going to be overtaken and overturned unless we don't address the size of the crisis. We need a sense of urgency. That's why I have asked the County to declare a state of emergency."
Villanueva once again pointed to Los Angeles City and County leaders as well as homeless service providers for the failure of keeping and maintaining public space open and safe. 
"Saint Joseph's Center, LAHSA, there is a Web of 501c3's who are getting a lot of fees off the homeless crisis," said Villanueva. The Sheriff also blamed the Los Angeles Times for what he says is a "refusal to admit what kind of crisis we are in."
Villanueva told attendees that the county needs better roadmaps to get a clear path to house the more than 60,000 homeless in the County. "We need to transition people out of harm's way and start the long and tenuous process of getting them on their feet or getting them reunited with loved ones," Villanueva said. The Sheriff also pointed out the numerous empty buildings in the City and County that could be used as shelters. "Using eminent domain wisely, we can move the entire unhoused into areas that do not impact public access. They can still get services."
Before ending the meeting, Villanua mentioned that deputies will be back in Venice after Bonin and Saint Joseph's missed a critical deadline in its encampment to home program. 
"The City is defending the [ubhoused] access to public space even though they have been offered shelter. That has to end."
As we wait for more details about plans to have a larger LASD presence in the County, Villanueva said the plan is to have teams of deputies working on the beaches from Marina Del Rey to Malibu--adding that he wants to make the beaches "livable and safe for everyone."