WESTCHESTER- An email sent to the L.A. city attorney's office from one of Councilmember Mike Bonin's staff members is getting a lot of pushback.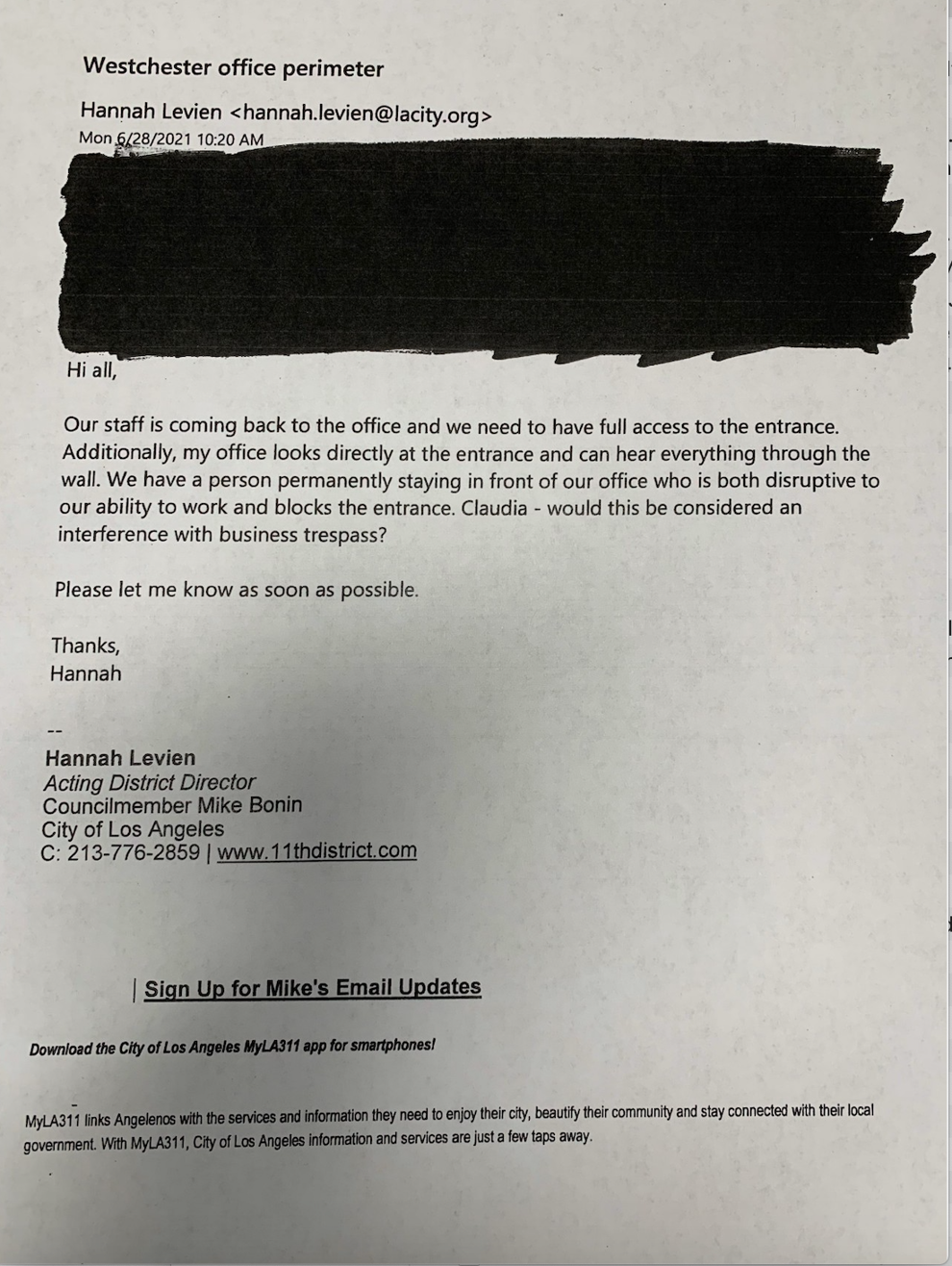 The email sent by Hannah Levien, Bonin's Westchester district director, on Monday, complains about a homeless person impeding the ability of staff to access the Westchester office and for staff to do their work. 
The letter reads: "Staff is coming back to the office and we need to have full access to the entrance. Additionally, my office looks directly at the entrance and can hear everything through the wall. We have a person permanently staying in front of our office who is both disruptive to our ability to work and blocks the entrance. Claudi-would this be considered an interference with business trespass?"
Residents in the area say the irony surrounding the email is that many people have been asking Bonin and Levin to help with the growing homeless problem at Westchester Park with little to no response.  Residents say that since a safe parking program started during COVID, encampments have gone from a handful to 91 tents at last count in June. 
A Change.org petition that received more than 2,300 signatures this April begged the council office to help clean up the park. The petition said the community deserves better than the crime, violence, and unsanitary conditions that exist in the only public space dedicated to recreation in the neighborhood.
It went on to say that safety in the park is essential to the physical and mental health of the children, seniors, students, athletes, and all residents of Westchester.
Residents called for an increase in security and enforcement of laws to help  return to safe and sanitary conditions across every inch of Westchester Park. 
A deadline of June 1 to make the park safe for summer programs came and went. 
 Growing concern over the safety of seniors going to the senior center [located across from Bonin's office] has also been reportedly dismissed. 
"What bothers me the most is that they can try and get homeless that are disturbing them from their front doorstep and yet when it's our safety, our kids safety, our homes, they don't care and they call us NIMBYs," a Westchester resident told Fox 11 News. "Well, she's a NIMBY herself."
Mike Bonin's Chief of staff issued the following statement to the media after the letter was leaked: 
"Councilmember Bonin didn't know about this and it isn't how he personally would have handled it. He believes our response to homelessness and encampments on public property needs to lead with housing and services, not enforcement. That's what he was fighting for today at City Hall, and that's the approach we are taking as we are housing dozens of unhoused residents of Venice Beach this week with our Encampments to Homes program."
We reached out to Bonin's office for further comment and have not heard back.