VENICE- Fight Back Venice (FBV), the group fighting the Reese Davidson project, a 2.8-acre homeless housing shelter at the Venice Canals, is fighting back over the truth about an alleged bomb scare at the Venice Bridge Home almost two years ago. 
The organization notes that it has been seeking the information because it believes Councilmember Mike Bonin weaponized the truth and sustained a false accusation that Venice residents opposed to the homelessness initiatives were responsible for criminal acts by placing a bomb-like device in the ABH. The organization and former Venice Neighborhood Council (VNC) member Christian Wrede recently secured open records they say they have been trying to get since the incident happened.
False Alarm
According to records produced by the City of Los Angeles, a security guard hired for the Venice Bridge Home found a C02 cartridge taped up with metal scraps and a lag screw on or near the project site on December 30, 2019. No report was made to the City that day, but on the evening of January 2, 2020, a security supervisor placed a call to the City's construction coordinator for Venice Bridge Home to report that other such contraptions had been found. 
The incident was deemed "minor" in police records. Following the standard practice, people living or working in a 300-meter radius around the project site were evacuated, and police investigators located "(3) C0-2 canisters."
The next morning on January 3, Councilmember Bonin told media outlets: "Three devices that were designed to look like explosives were found." According to Bonin's statement, "If the discovery of explosives was meant to slow progress on the [Venice Bridge Home] housing project, it failed."
Later that day, the LAPD Major Crimes Division (MCD) returned to the MTA site and re-canvassed the location. While conducting their follow-up investigation, investigators found evidence of similar devices that appeared to be much older, predating the Bridge Home construction. An email of the finding was widely distributed, including to Bonin and his staff members, stating: "Today, investigators from our Major Crimes Division followed their standard protocol in these situations and conducted a further investigation in the area. At this time, they do not believe the devices have any correlation to the current Bridge housing construction or homelessness issues."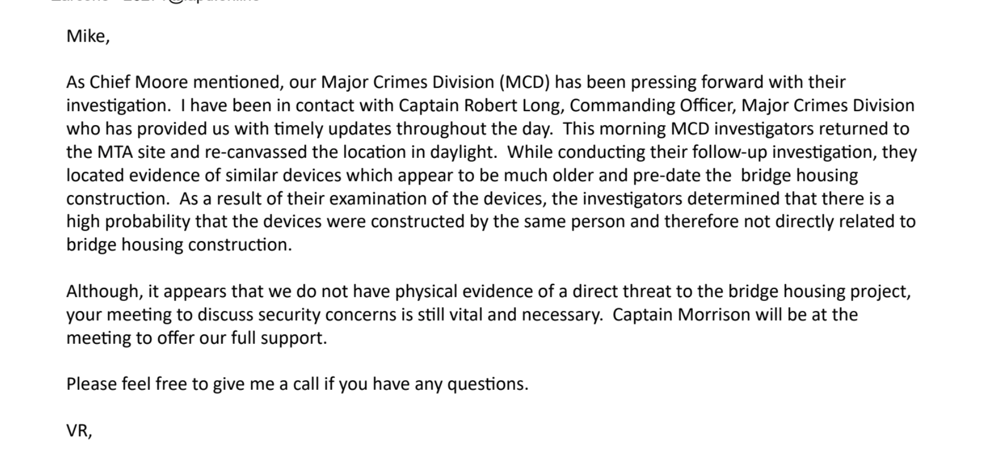 Police determined the devices were most likely CO2 cartridges often used in kitchen devices.  
The updated information, however, was not distributed. Instead, according to emails and documents obtained by FBV, Bonin directed his staff to distribute to the community and press his morning Facebook statement without modification.
The statement read: "Last night, the Los Angeles Police Department responded to a report of suspicious devices that looked like bombs at the site of the future Bridge housing in Venice." Streets were closed and police evacuated nearby homes while the LAPD Bomb Squad analyzed the devices. According to the LAPD, there were three separate devices.
Next, Bonin went into more details about the previous night's events, stating: "This is an appalling incident perpetrated by a disturbed and cowardly person or persons. If it was meant to slow or halt progress on providing Bridge housing, it failed."
Allison Wilhite, Bonin's former Bridge Home Deputy, widely distributed a release focused on linking the CO2 canisters to opposition to the Bridge Housing project.
The LAPD was working on an update for the community at the same time, but open-records documents show that Bonin inserted himself by making edits to a subsequent press release with the newest information.  Bonin suggested the following amendments:
"In my conversation with Chief Moore, he stated that he is taking this very seriously and was clear he has not ruled out any link to the construction of the bridge housing site. (Nor is he certain or convinced that there is a link.) I think the tone of this email [press release] will be perceived as downplaying the significance and dismissing that concern altogether."  
Bonin asked for the changes to the LAPD press release, according to FBV, even though he knew that the LAPD's MCD had already concluded that it did not have physical evidence of a direct threat to the Bridge housing project.
According to FBV, Bonin was intent on having the LAPD state that the device(s) were found on-site and that the motive for the placing of the devices continued to be investigated, consistent with his Facebook post, targeted at those who questioned his homeless strategies in Venice.
During this same time, a stream of angry comments was made on Bonin's Facebook page under his original post, including comments pointing the finger at VNC members.
An email to the City Council by then-VNC member Christian Wrede requested that the Council set the record straight after learning of the new evidence, which didn't back up the narrative that was still circulating in public.
The email stated: "I write as a member of the Venice Neighborhood Council Board to request all available information regarding the recent bomb scare at the Bridge Home Venice site on Main Street. Councilman Bonin states on his Facebook page that three 'suspicious devices looked like bombs at the site' and that they were placed there by 'a disturbed and cowardly person or persons.' He also suggests that it was part of an effort to 'intimidate' him and to 'slow or halt progress on providing bridge housing.' Further, there is an accusation in the comments on Councilman Bonin's Facebook page—which Councilman Bonin has not removed—that members of the VNC Board perpetrated the acts in question. I cannot find any news reports on the alleged incident so I am hoping you can help me fill in the numerous blanks quickly." 
That email was followed up by then-VNC Board President Ira Koslow, who asked Bonin in an email to change his Facebook post. "Comments that remained to stay up placed a very unfair and possibly dangerous spotlight on a few Board members," Koslow wrote. "The police are still investigating the bomb scare and have not stated and people of interest.  I would hope that you and our office would clarify the issue. Is there evidence, is there any evidence, or are you going to stand by and let innocent people, whether they are your supporters or not, be found guilty by rumor and fear-mongering?"
Wrede then followed up with Chief Moore about the email Wilhite had sent. Again, he asked that updates be made public to quiet rumors and lessen the tension in the community, stating:
"It does not appear that Ms. Wilhite's statement reflects any new information from your PIO [public information officer]. At this point, Councilman Bonin is telling the public that devices intended to look like bombs were placed at the Bridge Home Venice site in an apparent attempt to derail the project and terrorize prospective residents. Does that accurately reflect the LAPD's view of the situation? If so, what information can you provide to support that assessment or enable the parents concerned for the safety of their children to draw their conclusions? If not, what efforts are being made to provide guidance to the Councilman?"
Wrede's email goes on to state: "A terrorist act in the heart of the second-most popular tourist destination in California and one of the most densely populated areas on the Westside strikes me as a big deal, particularly in connection with an issue as contentious as homelessness. And it seems a little odd, frankly, that all public information relating to such an incident would come exclusively through Councilman Bonin's office."
Wrede also requested reliable information from the LAPD, including photos of the devices.
The next day on January 4, Bonin again posted an update on his Facebook page and again failed to mention any of the major crimes investigations. Instead, Bonin stated that the LAPD continued to investigate the events of January 2 and that, pending any arrests, a motive could not be determined. The post also indicated that authorities were investigating whether the Bridge Home was a target. Bonin again stated that if the act was meant to slow or halt the progress of providing Bridge housing, it failed.
Emails written by community members were then sent to the VNC on January 8 by community members asserting that Council members participated in the bomb scare, asking for their immediate removal.
Koslow forwarded one of those emails to Bonin's office, asking for action. "I am forwarding this one email as a representative of the type of mail and publicity some of our Board members are getting. The tone of your Facebook post as well as [fellow VNC member] Matt Fisher's comment has placed a very unfair and possibly dangerous spotlight on a few Board members. The police are still investigating the bomb scare and have not stated any people of interest, although Matt Fisher has stated there is video evidence against specific people in a comment on your post . I would hope that you and your office would clarify the issue. Is there video evidence, is there any evidence, or are you going to stand by and let innocent people, whether they are your supporters or not, be found guilty by rumor and fear-mongering."
Wrede again reached out to the LAPD, stating that their website had not been updated, adding that "the media coverage surrounding it has damaged Venice, including, in particular, Venice residents who have expressed opposition to the Bridge Home Venice project in court and elsewhere."
According to documents, Wrede did not receive a response to the email. Nor, according to the documents, were any updates made by Bonin or the LAPD. FBV claims that because the findings of the LAPD's MCD were not made public and certain Venice residents were targeted, Bonin used his public statements to try to portray himself as courageously standing up to this act. FBV also claims that Bonin obtained improper access to review and suggest edits to an LAPD press release, and in so doing weaponized law enforcement public information and records to link the incident and the CO2 cartridges to the Bridge Housing project, all when he had specific contrary information from the MCD detectives who investigated the case.
A scheduled land-use hearing for the Reese Davidson project that was scheduled for October has been moved to late November.