Just a few weeks after Venice Community Housing Corporation (VCHC) is approved to move forward with the Lincoln Apartments, a $20 million project that consists of 39 apartment units of affordable housing, the not for profit organization has two new plans set to be heard by the Land and Planning Commission in January. As the new projects move forward--residents say there is cause for concern at their already built homes.
Marion Place Project
On Monday, Jan. 04, 2021, the Department of City Planning will hear an affordable housing project that includes seven lots located at Marion Place and East Venice Blvd. 
The project includes the demolition of two detached garages and the conversion of seven existing single-family dwellings to eight permanent supportive housing units, one manager's unit, and 2,491 square feet of supportive services.
According to public records, the 11,334 sq ft lot was sold to Venice Property Holdings LLC located at 11400 W. Olympic Blvd. for $7,325,000 on Nov. 08, 2018.  
The California Secretary of State website shows Venice Property Holdings filed to become an LLC on Oct. 22, 2018, a month before the property's sale by Michael Neidorf, an accountant listed as the company's single manager. 
LLC property concerns
Buying property in Los Angeles under an LLC recently came under question by the City Council and Councilmember Mike Bonin. On Tuesday, Oct. 20, 2020, the Los Angeles City Council voted unanimously to approve a motion requiring the disclosure of ownership for limited liability companies (LLCs) that purchase residential real estate.
On Twitter, Councilmember Mike Bonin stated he voted for the motion because he believed companies and individuals often use LLCs to protect their identities, avoid personal liability, or shield ties to investors. Bonin asserts that creating transparency in the City's residential real estate market will help "protect our neighborhoods and provide housing for hard-working Angelenos."
As for the LLC filed for Venice Property Holdings, a regular statement of information is supposed to be submitted to the state. No further paperwork has been filed by the LLC since 2018--making it late for an Oct. 2020 filing deadline. 
Reese Davidson Project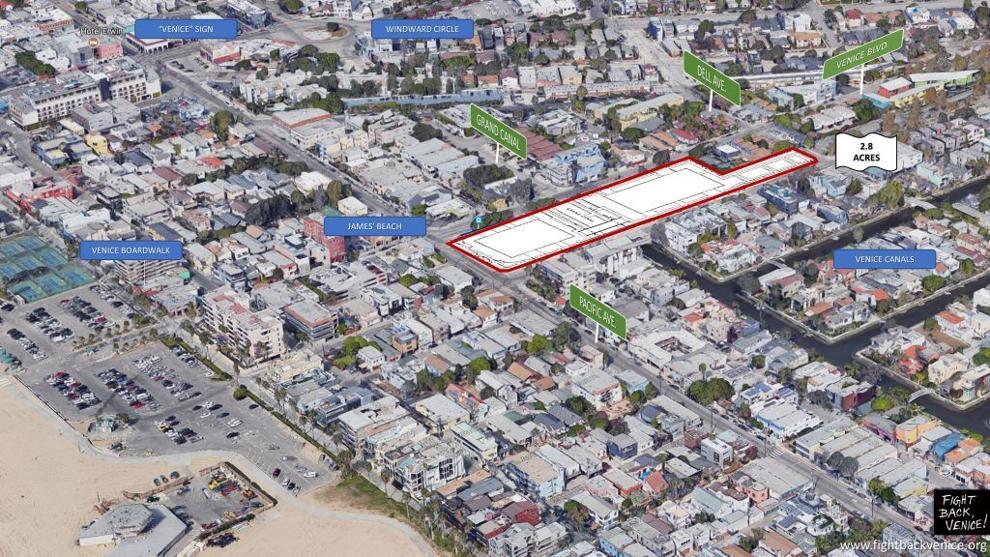 The Reese-Davidson project is also set to go before the Department of City Planning in January. That hearing is scheduled for Wednesday, Jan. 13. At the hearing, Sarah Letts from Hollywood Community Housing and Rebecca Dennison from VCHC is asking for an exemption from the California Environmental Quality act for the merger and re-subdivision of 40 existing lots into two master ground lots and seven airspace lots to build a 104,140 square foot mixed use project. 
VCHC is also looking for height waivers and a reduction of residential parking.
The proposed project is slated to be built on a 2.8-acre parcel in a residential area straddling the Grand Canal at the Venice Boulevard entrance to Venice Beach, a block from the southern edge of the Venice Boardwalk.
The project comprises two three-story complexes – the West Complex and the East Complex. Both complexes total 104,140 square feet of developed space, including 64,280 square feet of residential space, 2,255 square feet of retail space, and 5,365 square feet of common area. It also includes a 3,155-square-foot art studio and an 810-square-foot restaurant.
The developers said they anticipate each housing unit to cost about $500K to build — the average for such Proposition HHH funded PSH developments.
In October, the Venice Neighborhood Council Land Use Planning Committee created a motion to request a full CEQA review of the project, in light of its need for a change in zoning, location within a flood zone, and within the dual coastal zone.  That never happened.  
Rose Ave Apartments
Along with the approval of Lincoln Place Apartments, VCHC broke ground earlier this year on a four-story building that will have 34 studio and one-bedroom apartments for homeless households, as well as a two-bedroom manager's apartment on Rose Ave. The facility, located at 718-720 Rose Ave. will also have 1,885 square feet of office space. In Sept. of 2019, the Los Angeles City Council approved $13.9 million for the project.