VENICE - Los Angeles County Sheriff Alex Villanueva asked the County Board of Supervisors on Wednesday to declare a state of emergency for what he says is a crisis that needs to end in Venice.
Villanueva sent a letter to the Board prior to holding a press conference with the Los Angeles County Sheriff's Department Homeless Outreach Services Team (HOST) and members of the Venice community.
The sheriff said that by declaring a local state of emergency, the county will be able to apply for funding from FEMA to help create more shelters, camps, safe parking and services.  
"It's a national disgrace. We are the wealthiest nation in the planet, and we have such an enormous problem with homelessness and it's a local tragedy," the sheriff said. 
Villanueva said one of the reasons we are experiencing the crisis is:  "The City and County have decided they don't want to regulate public space. When you don't regulate public space, it will be occupied by somebody from somewhere."
Among one of three California codes Villanueva listed as to why he asked the HOST team to work in Venice is the departments responsibility to preserve peace: "If the city of Los Angeles is not regulating its public spaces and preserving the peace, the sheriff's department must step in, " Villanueva said.  
Villanueva also highlighted a government code that talks about the need for his department to act in the county if an outbreak of a public disease occurred. "We have typhus and bubonic plague at our doorstep," he said. 
Along with the "why" his team is in Venice, Villanueva took time to talk about accountability. Since 2011 the homeless population in the greater Los Angeles  has grown from 39,000 to 80,000.  During that same time,  spending for homeless services went from $411 million to $830 million. "At what point do you think we should adjust our approach?"  
Villanueva also pointed out that service providers, including Saint Joseph's Center, the non-profit earmarked to receive an additional $5 million if approved by the LA City Council for homeless outreach on the Boardwalk, are not being held accountable for the amount of money they take in--but show little in return. 
In 2020 the total revenue for St Joseph's Center was $39,702,402. Of that amount, $19,811,142 went to salaries and compensation and only $8,307,635, or 8 percent went to direct client aid. What the sheriff didn't mention, of that $8 million, Saint Joseph's received a PPP loan in 2020 for $3,199,400 for the payroll of its employees. 
The sheriff also highlighted the fact that because of the homeless crisis, tourism in one of the most visited places in California is drastically down. 
"For LA county we bring in 50 million visitors. That's $18 billion to our local economy. Thirty percent of our GDP in LA County comes from tourism. That is a huge chunk of change. So many livelihoods count on tourism. Yet, you don't hear from county supervisors about the drastic decrease in tourism. Why is that?" 
Boardwalk businesses, the second largest tourist destination in LA is also significantly down. According to a recent report in SMDP, business at the Venice Ale House and The Waterfront are down 50 percent from pre-pandemic levels. Boardwalk clothing stores Venice Liberty and Redline report that sales are only at 30 percent of 2019 levels.
Managers of all four businesses say the increase in homelessness and crime over the past year is severely impacting their business.
Bob Carlson, the owner of Arbor Collective, also spoke at the press conference Wednesday. Carlson delivered a heartfelt message about being a business owner responsible for his employees and customers' safety and welfare. Recently, a person experiencing homelessness brutally attacked an Arbor security guard. The guard, "T', has been in and out of the hospital since the attack and just last week had a finger amputated because of injuries he sustained because of the assault.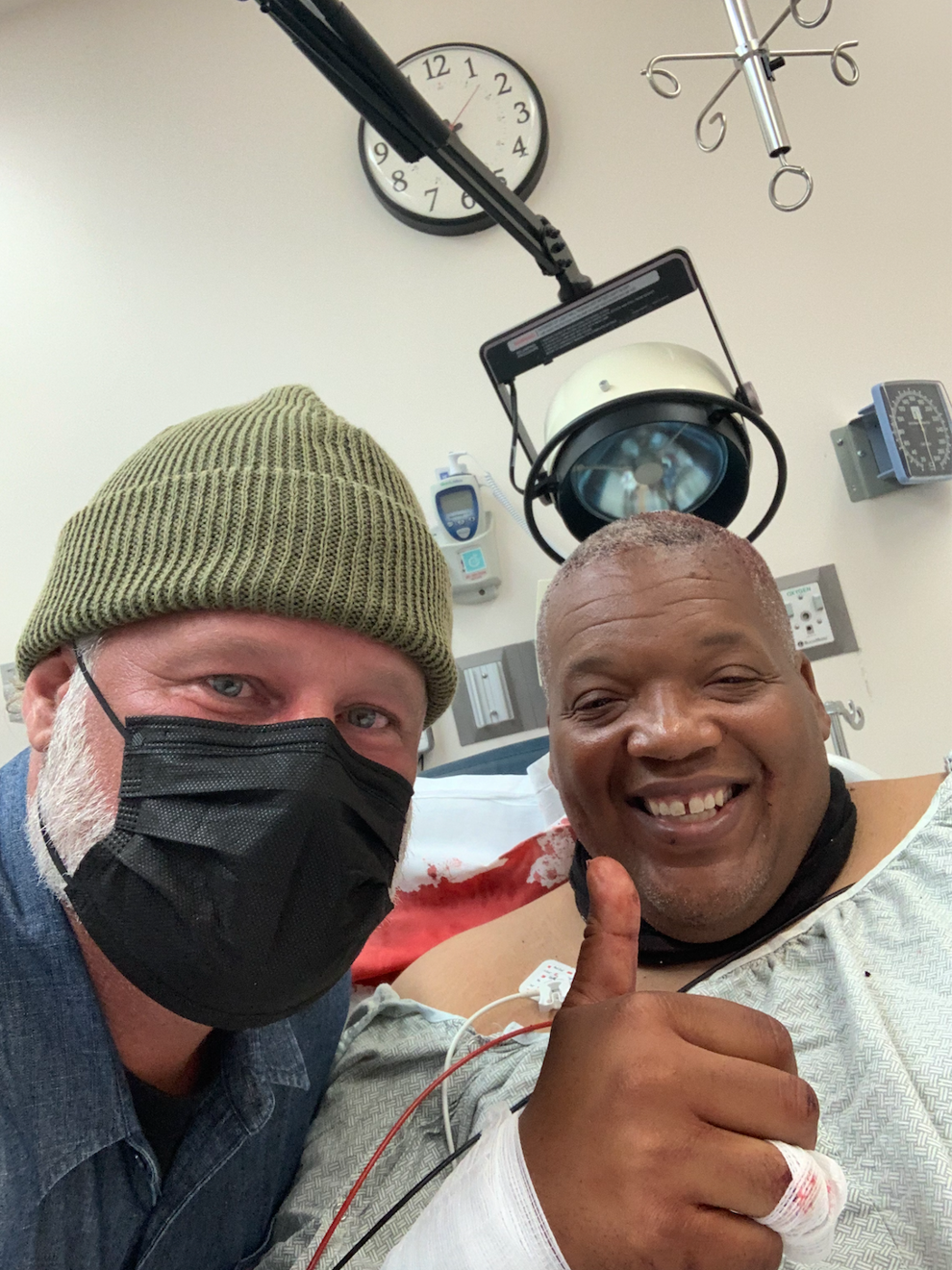 "Today in Venice, we are completely on our own," said Carlson. "You don't realize how much you need the police until they are not there. Until they are prevented from doing their job."
Carlson went on to thank the sheriff for his work on the Boardwalk. "Thank god this department is willing to bring sanity back to our home. The Sheriff is getting a bad rap, and lives are at stake. I hope that people will take a closer look at what people are dealing with in Venice."
Carlson added that as a skateboarder, "not all of my interactions with the police have been perfect in my life. It takes a lot for me to stand up here and give that man [the Sheriff] my thanks publicly--but that's what I am here to do. The people in Venice are walking around scared. I can tell you many people in Venice are so thankful for this intervention."
During a question-and-answer session a reporter asked the sheriff about moving residents from the Boardwalk into a temporary shelter. The reporter referred to the act as "shuffling them around".
Lt Geoff Deedrick, who leads the HOST team, pushed back. "What we are talking about is taking someone from a public space--which is making life intolerable for the rest of the community, and placing them somewhere," Deedrick explained. "In that placement, the service providers, who do a tremendous job, can now use their case management skills with someone who has a roof over their head. They have a warm shower. They have had a warm meal. That leads to a conducive environment where they engage in service that quite often they don't when you talk to them in the outside environment."
"It's a different conversation," he added. "I disagree with you saying it's shuffling. That's not what's happening. It's placing someone in a better place because what we see on the beach today is human deterioration."
"Do you see anyone getting better here? It's human deterioration and misery. Our efforts at the Sheriff's request are to stop that. I think it's disgraceful to say that's shuffling."
Deedrick said to date the HOST team has had contact with 140 individuals on the Boardwalk. Also, to date, fourteen have been placed into housing and four reunited with their families.
Villanueva ended the conference saying that he would send a letter asking the mayor to unhandcuff the LAPD. In Addition, he wants to see the Boardwalk a safe place again for families, businesses, and tourists.