WESTSIDE- Recall has become a catchword in California as efforts to unseat sitting incumbents across the state are heating up, including in Council District 11. Members of the Recall Councilmember Mike Bonin 2021 campaign are in full swing gathering signatures to get a recall on the ballot.  
The recall is expected to come down to whether recall supporters can mobilize enough of the District 11 voter base to counteract Bonin's base and oust the councilman. The campaign needs 27,387 signatures by November 10 to move the recall forward.
Bonin claimed in a statement about the recall that the campaign is backed by right-wing forces and constituents who have fought to stop housing, shelter and services for the unhoused in the coastal neighborhoods, "leaving people to die on the streets."
Nico Ruderman and recall campaign co-chair Katrina Schmitt say that's not true and cite the humanitarian crisis of the homeless population under Bonin's watch, mismanagement of taxpayer money and the reality of local businesses struggling to stay afloat as reasons for the recall effort. The two also point to the rampant increase in crime.
A Vote for Safety
Schmitt says she voted for Bonin in 2017 but that he has not made good on any campaign promises.
"He was talking about reducing crime and making neighborhoods safer, so I thought I was voting for someone who believed in our safety," Schmitt says as a way of explaining her turnabout.
Schmitt is no stranger to the homeless issue. In 2017, she woke up to find two homeless men in her house. "It was terrifying," she recalls. "I was in shock and kept thinking that this can't be happening." Although she wasn't physically harmed that night, the residual emotional impact of the event stays with Schmitt. Noises make her jump, and sudden movements make her palms sweat.
Schmitt argues that since Bonin was elected, his policies have led to anything but increased safety. "I feel like I've been lied to," she says. "I don't think he believed what he was saying then. I feel like he was doing what he thought he should to get elected at the time."
In 2020, Bonin initiated the defunding of the Los Angeles Police Department by $140 million. The defunding led to the elimination of patrols on the Westside as well as special units.
Schmitt lives near the Venice Bridge Home, a 154-bed shelter at 100 Sunset Avenue that opened in February 2019. "I was in favor of the Bridge Home because I knew there needed to be a place for the homeless," she says, but adds that the guarantee of safety and cleanliness in the area never happened.
Violent crime near the Bridge Home rose by 88 percent in the first few months after it opened its doors, according to the LAPD. Encampments around the shelter also saw a dramatic increase.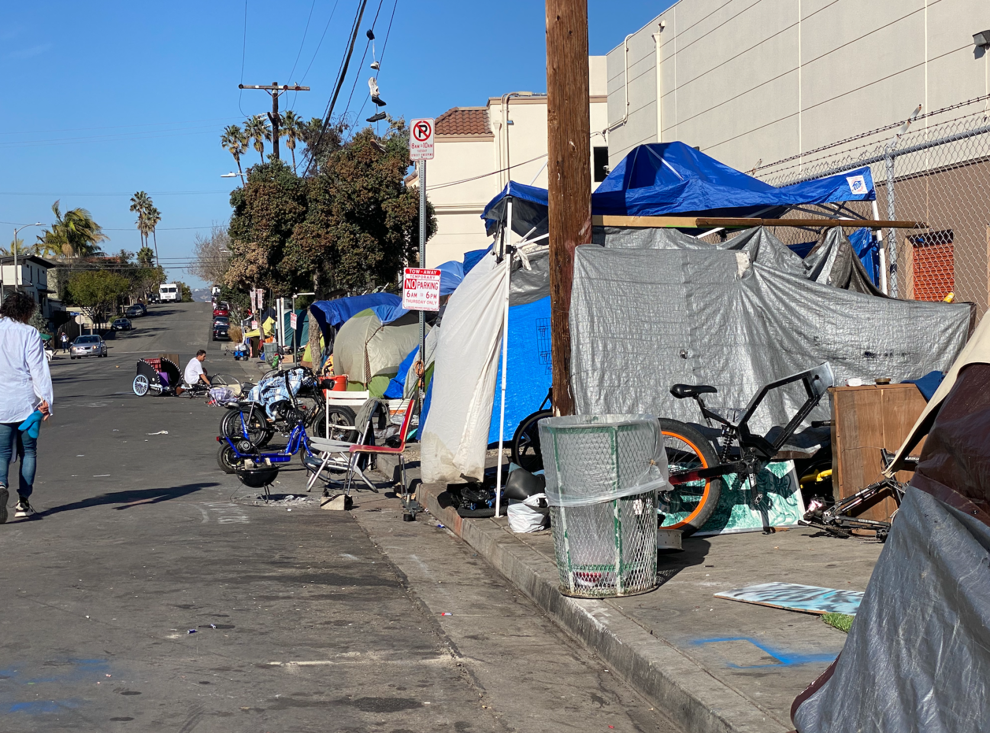 "We have to do something," says Schmitt. "Everything that [Bonin] has promised has been a lie."
Ruderman says he is afraid for the safety of his young son after learning about a meth lab being run out of an RV in front of his son's school. "This isn't an environment that kids should be exposed to especially next to schools." 
"The role of the city council isn't to just do whatever they want. We can't afford for more lives to be lost or businesses to go out. He is destroying our communities, and enough is enough. We are in a dire situation, so we have to use this [recall] process."
Bonin is pushing back on not only the content but the cost of the recall effort. He has tweeted that the recall is an "extravagant waste of taxpayer money."
Not so fast, says Ruderman. "So many businesses have been affected by his bad policies. The amount of money we would get for tax revenue [from businesses] on the boardwalk alone would save us."
Ruderman also criticized Bonin's recent feasibility study of putting cabin villages and 'safe' parking lots at local beaches and parks in the area. "The feasibility study is further proof that he doesn't care what taxpayers have to say, and he is wasting money. [Taxpayers] paid for a feasibility study to tell him what we already knew—that most constituents are against the idea. If it were up to him [Bonin], the sites would move forward tomorrow. He will never back down. He will keep pushing these bad ideas."
Both Ruderman and Schmitt say that hundreds of local residents have stopped by the recall campaign office on Main Street to tell them why they favor the recall, adding that because of that input, they are "laser-focused on getting the recall done." The stories come from a wide cross-section of residents, from seniors who feel betrayed to parents who want to protect their kids but feel they can't. "We believe we are doing the right thing for all these people. It's what keeps us going," says Ruderman.
"We can't be apathetic," adds Schmitt. "We can't afford to wait until the end of this election year. We are in a dire situation, and this is a process afforded to us to act and do something about it. We all have too much to lose."
Editor's note: We reached out to Councilman Mike Bonin's office numerous times for this story and have not heard back.