VENICE- On Friday evenings around sunset, Billy Stobo parks his work truck in front of 32 Windward Avenue. He unloads a large wooden box from his trailer and starts setting up a sound system. By 7 p.m., as the boardwalk starts to quiet down, a crowd will gather to hear various performers step up into the box to provide a night of free music.
The Music Box Microstage, as Stobo calls it, began around two years ago when Stobo, a carpenter by day, cleaned out his tool cabinet.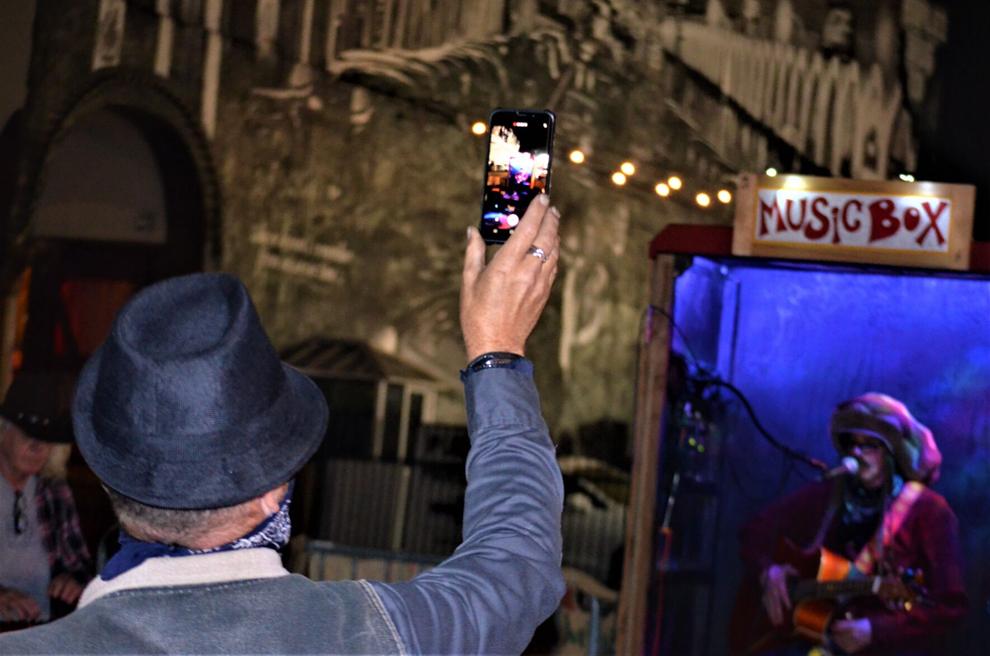 "I was moving it," the Redondo Beach native said of the seven-by-four-foot wooden enclosure, "and I was like, 'This is pretty big. I can stand in here…and my guitar fits, too'."
Stobo outfitted the box with a small PA system plus lights and began experimenting with locations for his portable show. He started near the beach, then near Zelda's Corner on Westminster. Stobo then partnered with Radio Venice, a weekly live music show webcasting from Ocean Front Walk. Last summer, he moved the show in front of Only In Venice Vintage clothing store on Windward at the invitation of its owner, Petey Pete.
"Producers and musicians are a small community in Venice, so we all know each other," Pete said. When Stobo told him about the music box, Pete said he told him, "I got the space. Let's provide some live music. We tried it out and it turned out to be a hit."
The parking spaces in front of Only In Venice are fenced off and provide enough room for the music box and the audience to spread out. Encouraging mask use and social distancing, Stobo said he "doesn't want to be a superspreader" and may have to reposition the stage to accommodate the growing crowds.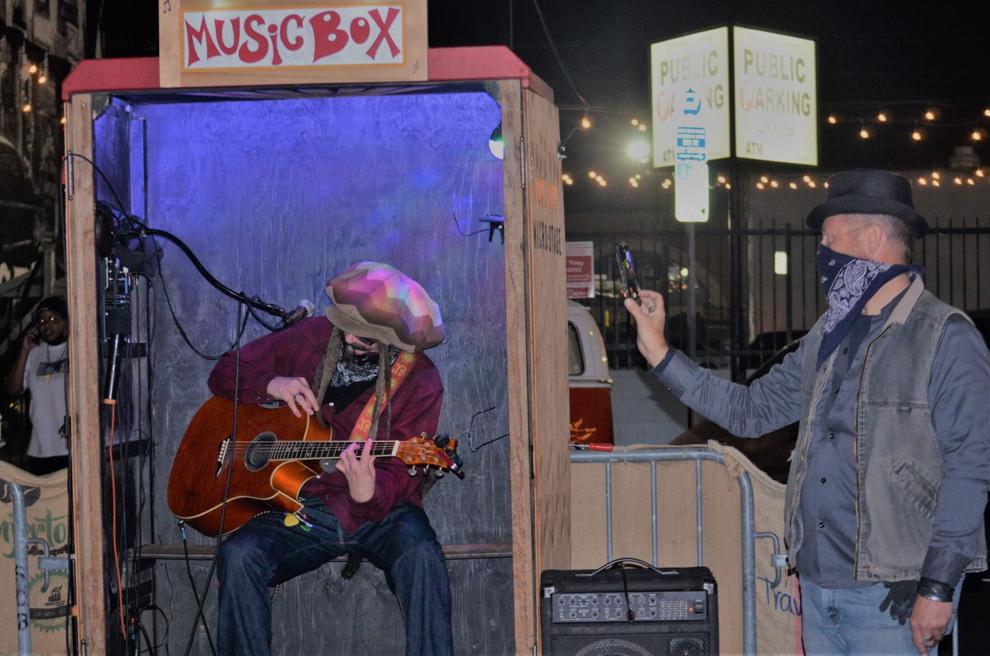 The Music Box Microstage is a curated show, so Stobo, 53, said he draws from his lifelong experience as a musician in L.A. to recruit a variety of musical acts. Stobo said he also works with Michael Jost, a founder and host of Radio Venice, to fill the "eclectic" Friday night bills, which include everything from acoustic guitar to autoharp to hip hop.
"People like Billy provide this kind of energy for shows," said Jost. "Particularly in the pandemic, it's safe and it's beautiful."
Stobo usually announces the lineup of four to five acts a few days beforehand on the show's Instagram account.
"Everyone's a bit freaked out when they first see the box," he said of first-time performers on the show. "They're pensive and think it's weird, but it sounds so good when you're playing. It's difficult to get them out."
Stobo said the music box is suited for solo acoustic acts or maybe a duo, and he has the capacity to amplify the musical output, including Bluetooth capabilities for singers with backing tracks.
"It's a perfect little blank slate to do whatever you want," he said. "I'm open to all kinds of music from anybody who's willing to go."
"My only rule is no phones, no tablets, no computers. And you can't be an asshole. And bring your own mic 'cause there is a pandemic. That's my only safety precaution."
Stobo, who said he lived in Venice in the early 2000s but now lives in Burbank, emcees the shows, plays first and typically closes the shows. He plays acoustic originals, often with a Scottish or Irish flair. Saying he "dabbles in everything musically," Stobo organizes his musical endeavors under his own Fork Tongue Records label, which includes "folk to rock to jazz to weird microtonal stuff."
The Music Box Microstage was going "gangbusters," Stobo said, in the fall with Friday and Saturday night shows in Venice, plus regional excursions to Orange County and the high desert. He paused the shows during the last shutdown starting in December, saying he wanted to respect health protocols. He said local law enforcement have never interfered with the show.
"The police are cool," Stobo said. "Sometimes they watch. They've been so good to me. Sometimes the shows go till like 12:30 or 1:00 a.m. They'll come by and look at me like, 'Dude it's 12:30.' And I go, 'Yeah, yeah, I got it' [and stop the show]."
Now that the show is back on a regular basis, Stobo said he has big plans for a St. Patrick's Day show.
"We're not going to let two [holidays] go by without having something," he said.
On a recent Friday night, the Music Box Microstage featured a bill with Captain Space, Christopher Hazard, Peter Demian and the Aliens That Ate Hollywood.
Despite the blustery, cool weather, several dozen people gathered near the Music Box Microstage as Stobo put the finishing touches on the sound setup. Marvin Gaye's "Sexual Healing" blasted from inside Only In Venice Vintage as people socialized and curious outdoor diners at Teddy's Red Tacos next door looked on.
A young man in a patchwork suit talking to a few people claimed he was Britney Spears' touring keyboardist, as a French bulldog in a fur vest meandered through the crowd, intently sniffing the pavement. A long-haired man carrying a banjo approached Stobo and asked if he could play, but Stobo politely yet firmly told him the not-an-open-mic policy and asked him to contact him later.
As Stobo stepped into the Music Box Microstage, Pete cut the music from his store while Stobo finished tuning his guitar.
"Welcome to another Music Box evening," Stobo said to applause and whoops. "We've got quite a show coming right now."