VENICE-When James' Beach closed in September, it was sad news for Venice's dining scene. The neighborhood restaurant had been a go-to gathering spot for locals since partners James Evans and Daniel Samakow opened it in 1996. Appearances in 2009's I Love You, Man plus TV shows such as Curb Your Enthusiasm only expanded the eatery's popularity. 
Samakow said health issues plus rising rent and business costs made him and Evans decide it was a good time to go. Samakow can't say what's going in the space at the end of North Venice Blvd. next, but the new tenants are local restaurateurs with bar experience.
"Hopefully, it's not going to be some chichi restaurant or some corporate thing," he said. "Our goal was to keep it neighborhood."  
Samakow said he and Evans are taking time to "decompress" as they consider what to do next. They've had offers to open a James' Beach in Palm Springs. They're working on a book, and some filmmakers were working on a documentary on them.
"Because we've been so much involved with so many aspects of Venice," Samakow said, "I think they wanted to do a documentary of James Beach relative to the effects on Venice," such as starting the Venice Art Crawl and helping start Venice Pride, plus their involvement in putting the Venice sign up and its holiday lighting. 
A museum for Venice history and art is another possibility.
"There's so much history here that people are unaware of," Samakow said, "and it's always been an artists' community, and while the types of art have changed, it's still a creative community."
One sure thing Samakow said he wants to devote time to is his own art.
"I think I'm going to focus on my painting," he said, adding that he was often too busy with James' Beach to sell his artwork to galleries. "That was always a dream to pursue that." 
Shortly after closing, James' Beach held an auction of various items from the restaurant, including some of Samakow's paintings.
We asked Samakow to select some of those items and tell a story behind them, in turn telling the story of James' Beach itself. 
#1 and #2 paintings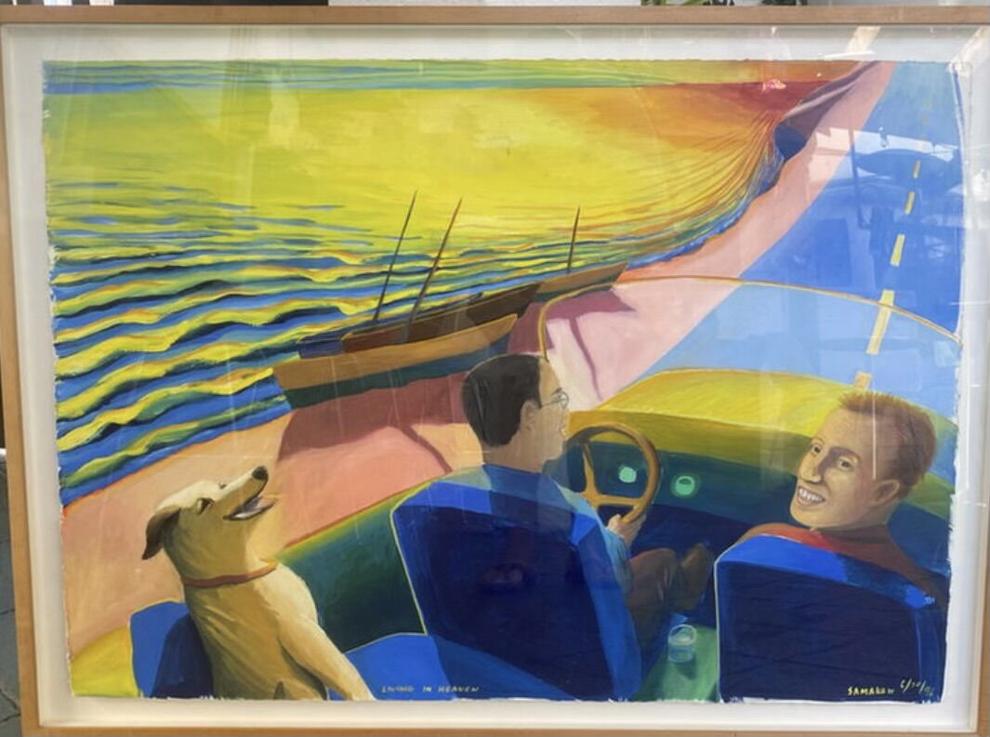 "Bartok was our first dog, and dogs are throughout James Beach. We had a dog-friendly patio. On the menus, there was always a little picture of a dog…I met James at the West Beach Café, which turned into James' Beach. I met him in '82 and we bought it in '96. We lived next door to the West Beach. We got that dog as a puppy, and on his first night home, we put him in a box  because people said, 'Don't spoil the dog. Don't let him sleep in your bed. Put him in a box and let him sleep there.' We had a kitchen that overlooked the restaurant and we put Bartok in a little box in the kitchen, and around 2-3 a.m. he's howling. We're not supposed to recognize his howling but it was too much. So we went into the kitchen and he's standing up out of his box and he's looking out the window—there's smoke coming out the West Beach Cafe. There was a fire. We called the fire department. And that dog saved the West Beach possibly from burning down.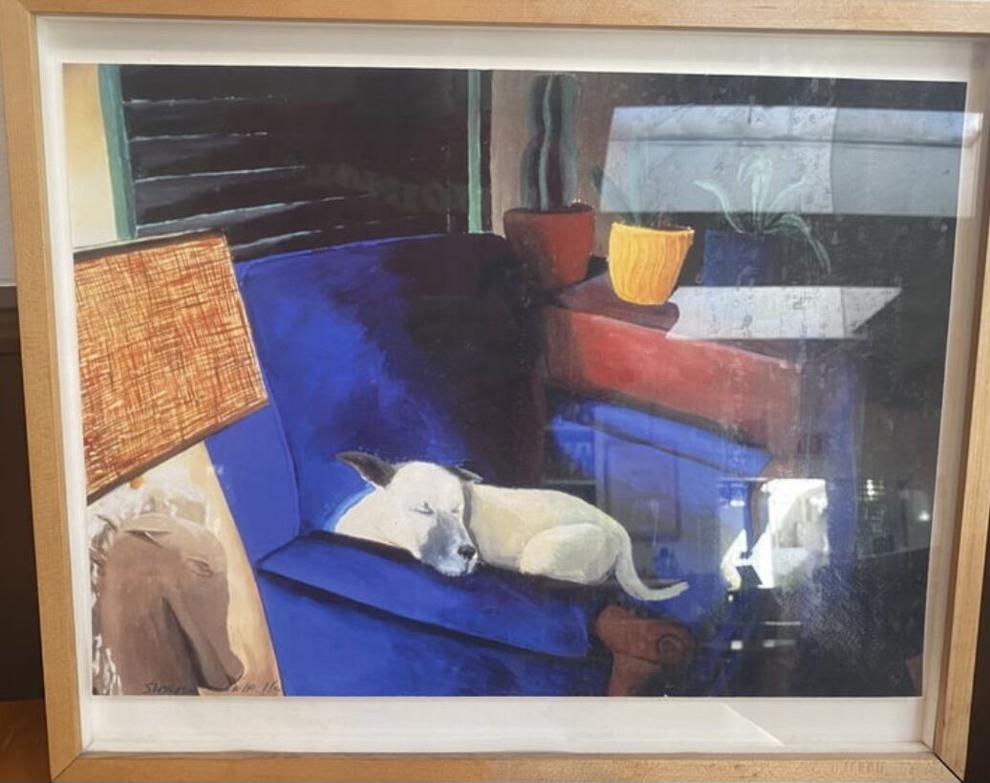 That portrait of him hung at the restaurant almost all the time. He was the patron saint. Right before we opened the restaurant, Bartok passed away from natural causes. And we felt he kind of said to us, 'I'm leaving you free to pursue this next chapter of your life.' So I painted that painting right before we opened, you know, the three of us enjoying life together. Those two paintings, in my mind, kind of go together. That painting was sort of the start of James' Beach."
#3 The short lamps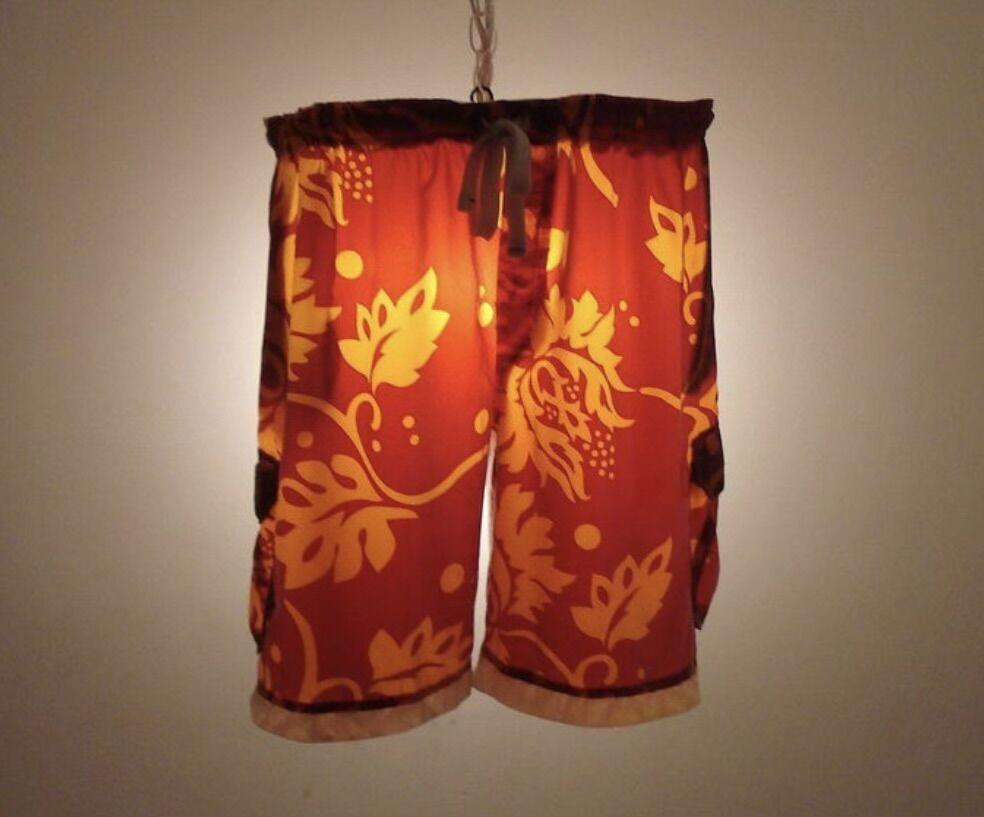 "The short lamps are iconic. They've been in magazines. It's started with artist Jimmy Ganzer, who created a short lamp, a lampshade. It wasn't hung like wet shorts on the line. He did it for Rebecca's [which preceded the Canal Club]. It was on a sawtooth shark base, like the nose of a sawtooth shark going up the shorts. I said, that's a great lamp but you know what would be more fun? If we did it like on the clothesline. So, he did a bunch of short lamps for us. We would go to Aaardvark's [closed vintage store] and find old used surfer shorts. I mean, for 26 years, we would keep making these things. Jimmy stopped making them and I started making them myself. We started with shorts that came from the 40s and the 50s and then the 60s or the 70s. They evolved over the years and as one of the most recognizable parts of James Beach. They were in Preservation Magazine as the quintessential expression of surf culture in California. That's something that a lot of people relate to.
#4 Venice sign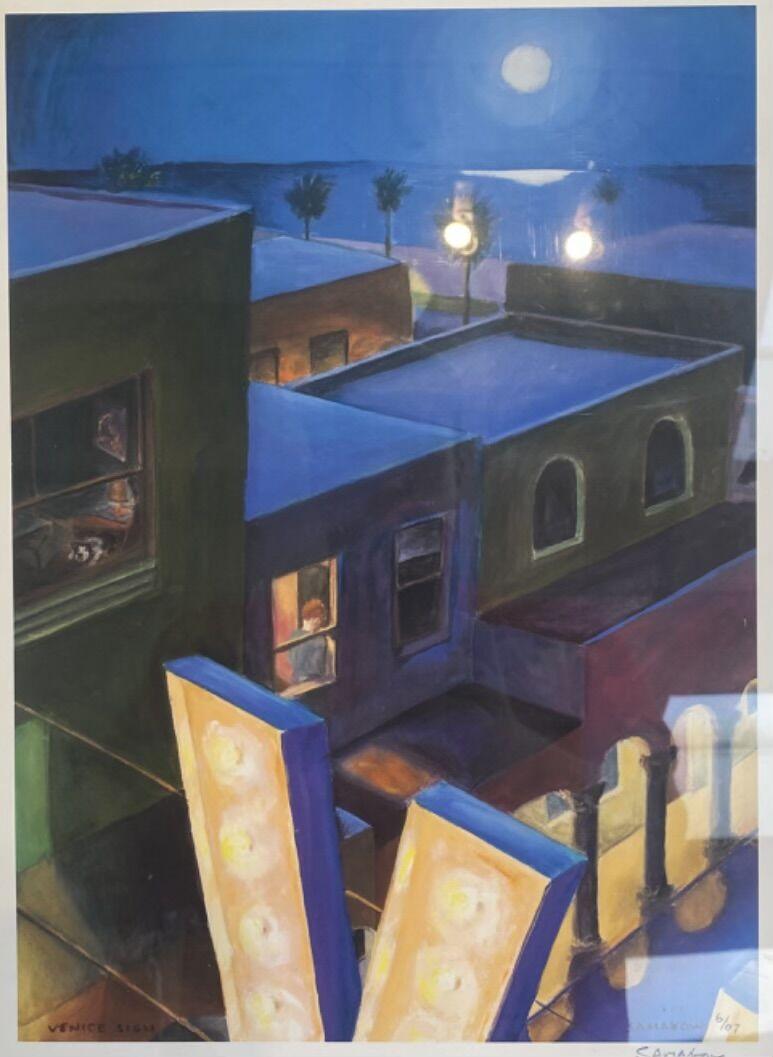 "That painting I did once we put up the Venice sign. I felt like it was important to make it come full circle. I did this painting and gave prints of it to a lot of the people who were instrumental in putting up the Venice sign. 
I was very much involved in putting up the Venice sign. I actually came up with the method that we were able to get the city to approve it. It was funny because they'd [local groups supporting the sign] been trying to get the sign funded and installed. They had all the drawings and knew the shape and size and everything, but the Coastal Commission wouldn't allow it unless the city of L.A. gave us a permit and the city of L.A. would not give us a permit unless the Coastal Commission allowed it [laughs]. So, it was stuck.  
I came up with the idea of putting it up under a Christmas light permit, which is a temporary permit. The tricky part was raising the remainder of the $27,000 to do it—which we did. We talked to Bill Rosendahl [former CD 11 representative] at the time. We said to Bill, 'We're going to put it up but it ain't coming down.' I promised everybody who put the money in they're not going to lose it. So we put it up under a Christmas light permit and got a whole bunch of people to put it into movies and TV shows and books and stuff as fast as possible to make it iconic so that the city would not be able to take it down. The long and short of it is the Venice sign still remains up there." 
#5 I Love You, Man picture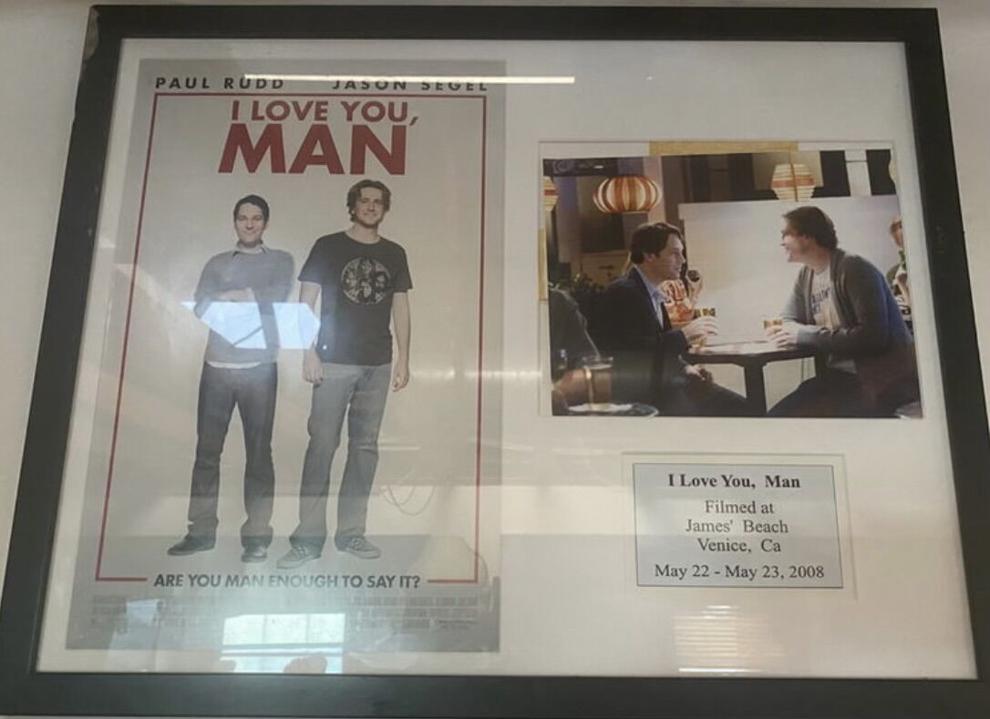 "John Hamburg [I Love You, Man writer/director] lived in the canals, and he would come to James Beach all the time, mostly for lunch. I believe he wrote parts of I Love You, Man in the on the patio. And he loved the fish tacos. They used to only be available for lunch. He said to us, 'Guys, it's really important that this picture feel real. I want an authentic feeling of Venice. So I'm going to do a scene at James Beach. But I gotta have those fish tacos because they are the best thing I ever had.' They went through 130-something fish tacos. Every time they stopped or they cut: 'Okay, we need a new platter.' Obviously, we had no idea it was going to be so well publicized in the film. 
When James and I went to their premiere, it was like an ad for James Beach. We ended up putting the fish tacos on the dinner menu because everybody and their mother was coming for them. I remember our accountant said, 'I just talked to a guy in Halifax who said I'm coming to Venice so I can have those fish tacos.' So yeah, it became famous.  
We've been in a lot of things like videos and just tons of TV shows. A lot of people talk about Curb Your Enthusiasm because we were in two Curb episodes. So the first one, they actually changed the name of the restaurant to Maxwell's because there was a scene where [character] Jeff Greene breaks a chair because he's kind of heavy. And so they said, 'We don't want to use your name because we're kind of saying something bad, that your chairs are going to falter, so if you wouldn't mind we're gonna to call the place Maxwell's. We love you guys, so we want to do something special next time.' Okay, great. So, I get a call and they say we're doing the biggest episode of Curb Your Enthusiasm—it's a Seinfeld reunion episode and we're going to do that at James Beach. [In the episode] they put up a bunch of naked pictures, which distract Jason Alexander and Michael Richards. It was very funny and people would constantly come in and say, where are the pictures of the women? [laughs] 
#6 The Canal Club sign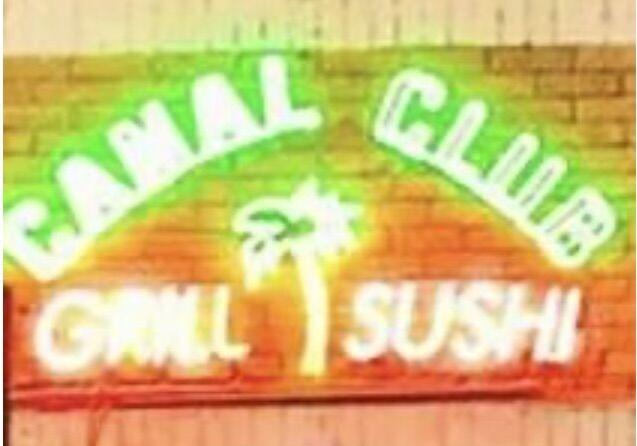 "Two years into James Beach, Bruce, who owned the West Beach and Rebecca's, left Rebecca's and we bought it because we didn't want competition on the street. And, I mean, for years James Beach and Rebecca's were sister restaurants. They were yin and yang restaurants. James Beach was modern American comfort food, and Canal Club was Asian and Latin. It was fire and water. It was essentially beach cuisine. And because they had a wood grill and sushi bar, people would order sushi. They'd be at James Beach, and they'd say, 'Can I get a California roll from Canal Club?' and we would be running California rolls across the street. And the same thing at Canal. They'd go, 'Is there any way I could get a Pittsburgh pecan ball from James Beach?' We'd run it back and forth. So that was a big part of our business…the two restaurants kind of worked together. 
That sign became very iconic. We kept it and we sold it at the auction. We closed Canal Club right before COVID. It was very much about art and we actually started the Venice Art Crawl at the Canal Club because it was a very creative place. We were celebrating art. Canal Club was more local, young artists.
James Beach was a hangout for artists, too. So we would have art shows with Ed Rochette, Peter Alexander, of course Billy Al Bengston, Ed Moses and all these famous artists displayed their work there." 
#7 The joy sign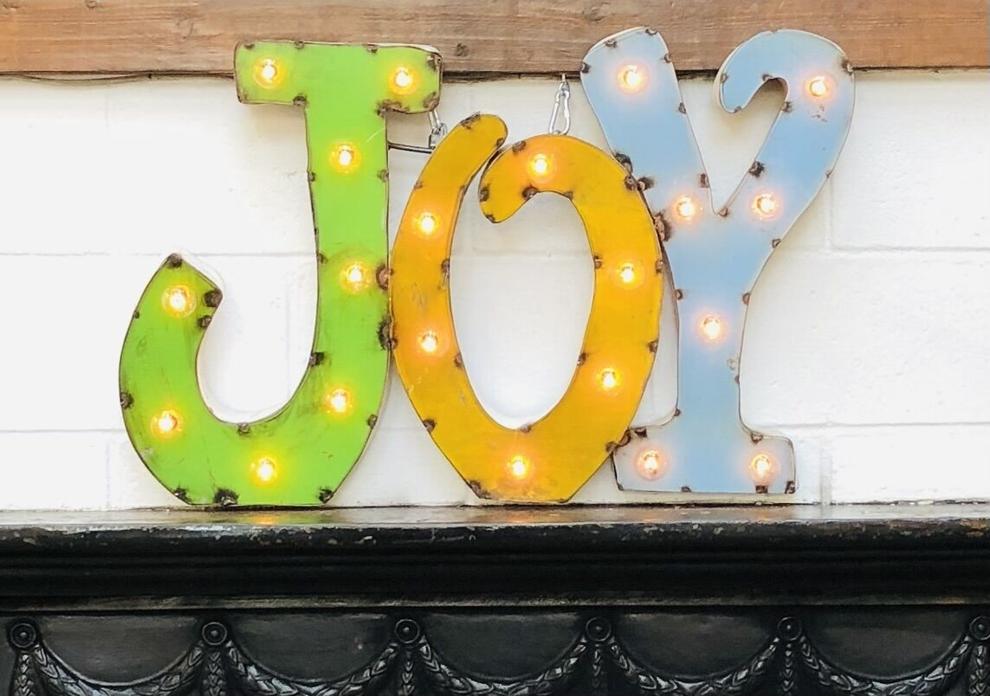 "It's not much of a story but essentially we found that locally; it was a Christmas decoration somebody had made. We put it up over the fireplace for Christmas. It just so personified our philosophy of life, and life at James Beach, which is from a place of joy. So that sign remained up for the remainder of the time that we were…it went up 10 years ago, maybe, it'd been up there for a long time."
#8 The red barstools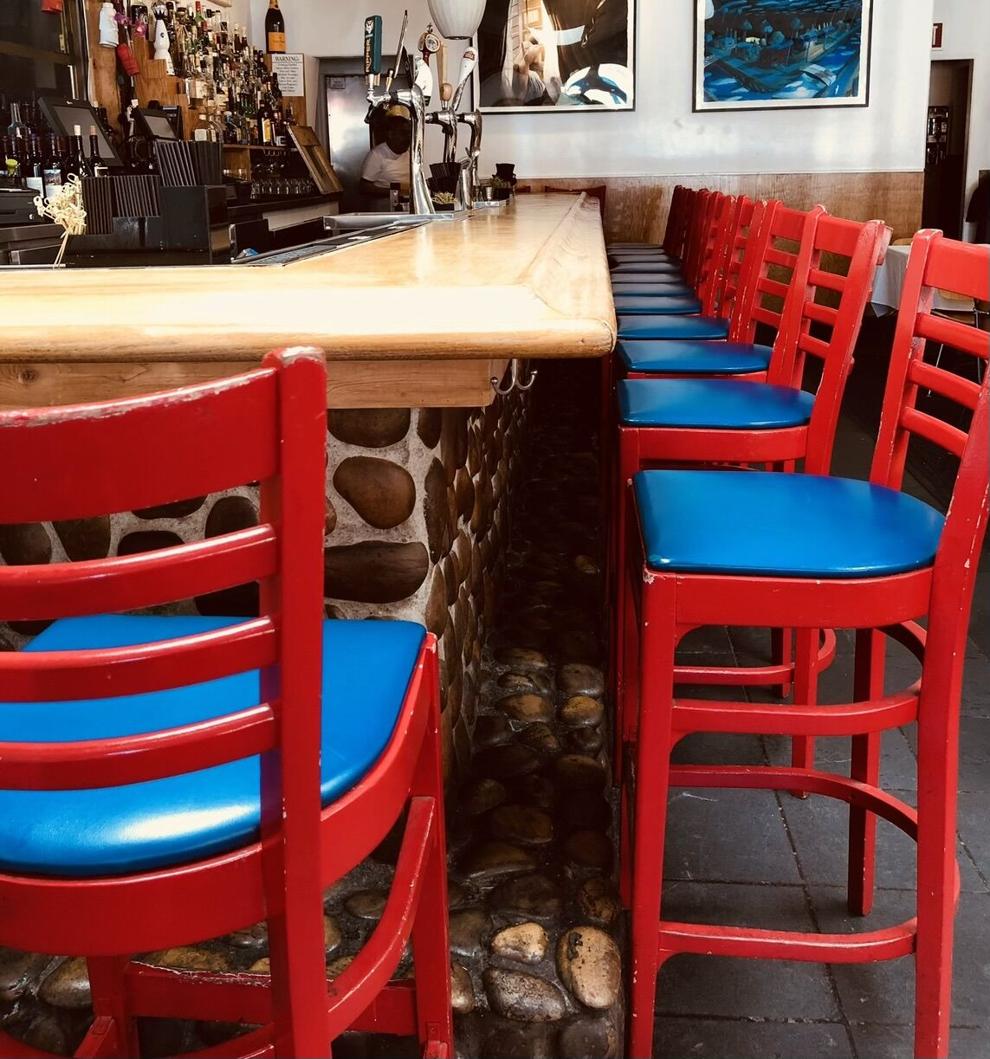 "The red barstools were actually the barstools that James and I met at. They were the original barstools that were in the West Beach cafe. James and I met on his birthday March 15th, 1982, and we sat at those two barstools. Dennis Murray, who worked at the West Beach, served us and we kept him at James Beach and he worked to the very end, the same bartender who served us. There's actually a clip on our Instagram account where Dennis says, if I hadn't made you good drinks that day, you might not have had a great time and James Beach would never have happened. So we kept those barstools forever until they got to the point where we repainted them, we reattached them, glued them and then eventually they had too many coats of paint and were dilapidated. It was like okay, maybe we should come up with something new, which we did really only in the last year. We had those red barstools from the beginning all the way through to 2020, I believe, or 2021 because we used money from COVID to get some new barstools."
#9 Fish tables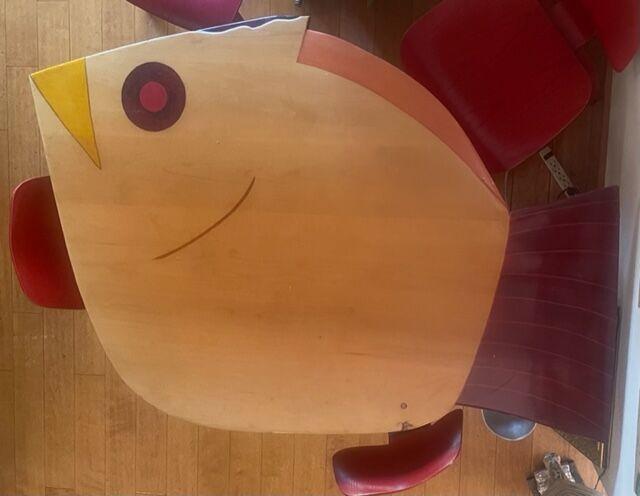 "There were four of them. One was actually six different pieces that made it look like a piece of sushi but it was a fish. When we sold the Canal Club, we moved them to James Beach. There were very artistic…because Billy Al Bengston passed away [Oct. 8], I just wanted to bring that up. He also designed the iconic Gold's Gym window with original Gold's Gym plates as a counterweight to that 300-pound piece of glass. That's a real piece of art. He also did these brass trellis gates in the front that are really spectacular."
In summary, Samakow said, "It's bittersweet, but things change. There's always time for new things. We were the new thing after West Beach. There'll be a new thing after us."