VENICE -The Venice V Hotel at 5 Westminster Avenue is open for business.  
"It's been a long labor of love," said Carl Lambert, who co-owns the hotel with his fellow real estate broker wife, Francyne Shapiro-Lambert.
Located just off the Venice Beach Boardwalk, the five-floor building has 34 rooms and two long-term apartments.  No two rooms are alike with three distinct themes informing the design curation of the interiors: bohemian beach culture, an artist's studio, and skate and surf culture.
Rooms and suites feature open floor plans, hardwood floors, and walk-in showers while seven rooftop bungalows boast private entrances and unobstructed ocean views. 
Throughout the building, original period details are also revealed in exposed interior riveted steel beams, a central grand staircase, and a restored elevator, considered the oldest operating elevator west of the Mississippi. Venice's vibrant art culture is on display with local art pieces in each guest room, as well as in the lobby with a striking 12-square foot depiction of Venice's founder Abbot Kinney  made of 4,300 skateboard wheels.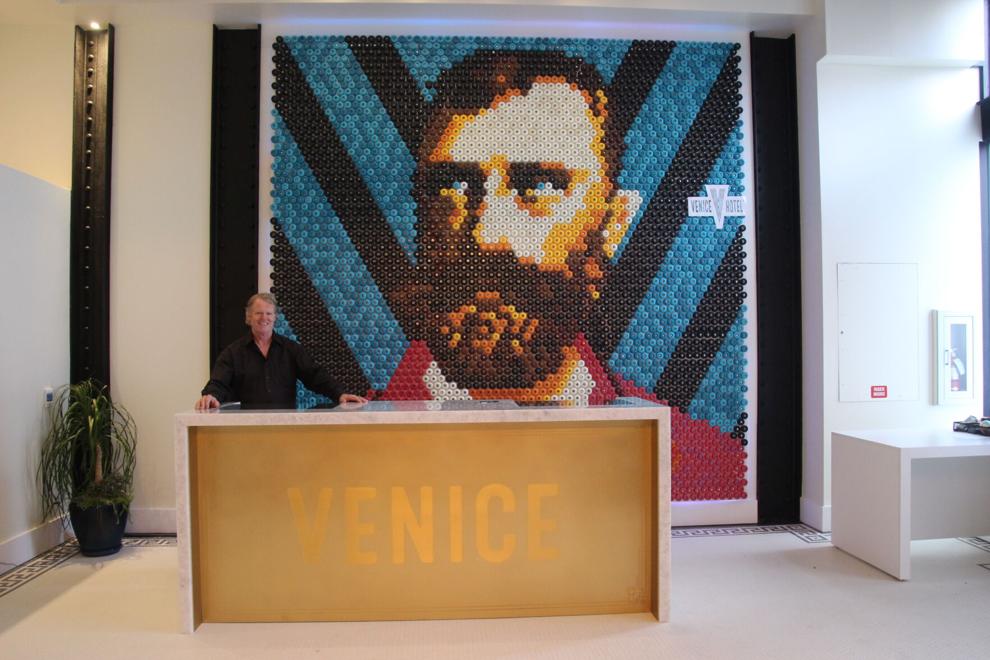 Several rooms have a theme, such as the Charlie Chaplin suite. Chaplin stayed in the Waldorf, along with other celebrities of the day Clara Bow and Fatty Arbuckle. (Lambert also pointed out one of the rooms was a setting for the 1986 Sylvester Stallone movie Cobra.)
"We paid homage to what he [Chaplin] was, who he was, what he did," Lambert said, adding his namesake suite has views of both the beach and the Hollywood sign.
Other themed rooms include the Boho (as in Bohemian) and the Dogtown, which celebrates Venice's skateboarding legacy. That room includes graffiti copied from historic skating photographs and a loaner skateboard.
The basement contains a theater, which Lambert said he sees as multipurpose. It could host yoga in the morning, be used for meetings and luncheons during the day, and screen films at night.
Eventually, Lambert said, a bar and restaurant will be opened on the ground floor.
"We had a lot of fun with it," Lambert said of the long process opening the Venice V. "It was expensive but really nice."