VENICE -It's a documentary 40 years in the making, but for filmmaker Mark Steven Shepherd good things come to those who wait with a camera.
His feature length documentary Venice of America is completed but he's putting the finishing touches on it, including audio mixing and getting song clearances. He's crowdfunding the film through IndieGoGo so he can release it to a wider audience.
Shepherd screened a cut of the film recently at Penmar.
"The March screening put on by the Venice History Museum was great," he said. "About 200 people attended the outdoor screening and watched the entire film. There was much laughter and applause on this emotional and joyful film experience. My thanks to Venice Heritage Museum for all their efforts in putting the screening together."
Currently in London working on an American film production, Shepherd said Venice of America started as a pilot in 1981 for emerging television opportunities. 
"My original intent was to create a new form of TV documentary for the new cable market," Shepherd said. "Content that was uncensored, unscripted, raw, provocative, entertaining and funny. Street Life was all of this, but still too much ahead of its time."
The preview for Venice of America lives up to Shepherd's description: beach scenes, low-rider cars, fire-jugglers, Harry Perry, drum circles, surfers, tourists crowding the boardwalk, Muscle Beach, and the Venice Beach Freakshow flicker across the screen as guitar and drums pound in rhythm. 
Shepherd narrates, "For 110 years, this vibrant community has endured through tough, revolutionary and turbulent times. I started filming the boardwalk in 1980. There was always something going on…Venice Beach is more than just a beach; it's a way of life…Little did [Venice founder] Abbot Kinney or I know that hordes of people would come to Venice looking for that free and joyful lifestyle."
The preview continues on through 2020, touching on the pandemic, homelessness and a riot-ready National Guard presence on the boardwalk.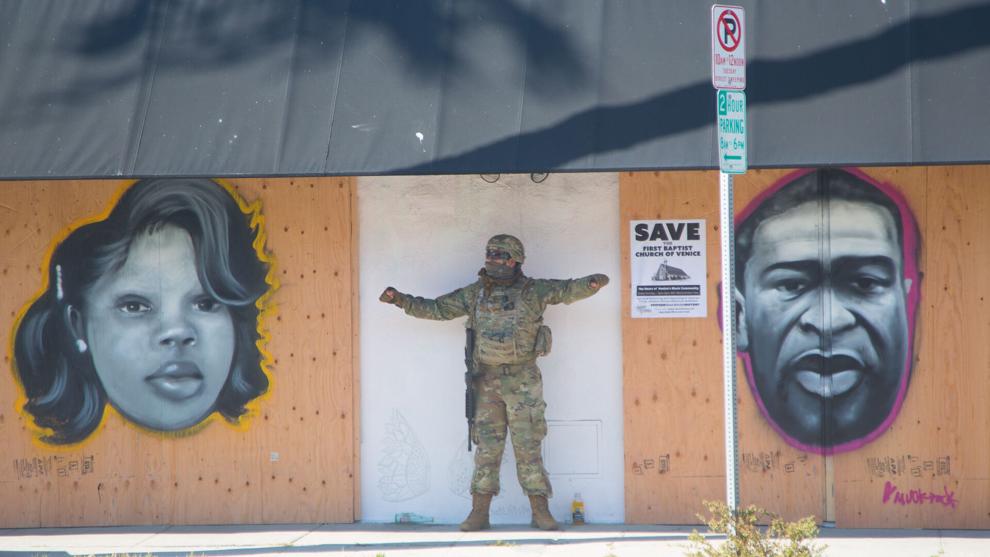 "In February 2020, just as the pandemic began, I had a 'work in progress' public screening of Venice of America at the Santa Fe Film Festival," Shepherd said of adding contemporary material to the film. "Numerous audience members thought it was a masterful piece of work, but I knew as an artist the film was not complete."
Throughout 2020 and 2021, he said he had to keep filming scenes of "pandemic encampment explosion," the Black Lives Matter movement and the National Guard as "very powerful historical sequences in Venice of America history."
Venice of America is dedicated to actor Orson Bean, a longtime Venice resident who died when he was struck by a car in early 2020, who Shepherd said was a "vital" part of the film.
"I was nervous about Alley Mills Bean [Orson's widow] seeing the film for the first time, but I heard from people around here at the screening that she liked it," Shepherd said. 
Shepherd eventually interviewed Mills Bean about Orson's life and death and her hope for Venice's future, "so the powerful closing segment with Alley was the only way to really complete the film."
The four-decade journey to completing Venice of America started when the native Southern Californian Shepherd started making 8mm films as a teenager in the 1970s before completing film school then working on features, documentaries and commercials in New York City. He returned to California in the 1980s and has lived around the Dog Town area of Venice ever since.
"I've always loved motion picture cameras and making films and the magic of going in a dark screening room to view the dallies for the first time," Shepherd said. "I would beg, borrow or steal to get my hands on a motion picture camera."  
Shepherd recalled a film school professor telling him that he, the professor, "didn't give a damn about the curriculum…he just wanted to use the department's expensive cameras and make film."
Shepherd agreed and eventually bought his own state-of-the-art camera system, which he used on the Street Life pilot. Using that footage as a calling card, Shepherd soon found himself filming the 1984 Olympics here and working on documentaries for network and cable channels. 
He also worked on his own projects, documenting everything from the O.J. Simpson trial to Hollywood's ubiquitous red carpets. 
"I tend to make unique documentaries that take many years to film and edit," Shepherd said, "including my award-winning poetic doc short film The Wild Life that took seven years to complete. Certain bird sequences in the film took two years of filming for a couple of minutes of screen time. Venice of America took the longest time to complete, over 40 years, but who's counting…"
For more information on the film, contact VeniceofAmericaTheFilm@gmail.com.