VENICE - They opened their doors just as Los Angeles was shutting theirs, but that didn't stop Venice Way Pizza from keeping comfort food in the hands and hearts of Venetians during the past year. 
Venice Way Pizza, a neighborhood artisanal slice shop, is celebrating its first anniversary. The pizza joint opened in March of 2020 and is still slinging some of the best slices L.A. has to offer.
The Pizza joints take-out window, located at 1697 Pacific Ave, serves "L.A.-style" pan pizza—5x5 inch "slabs", and more. 
On the Menu
The pizza style blends various pan pizza traditions, including Detroit-Style Pizza's crispy bottom crust and Roman Pizza al Taglio's light and airy crumb coupled with Sicilian Focaccia's satisfying but straightforward appeal.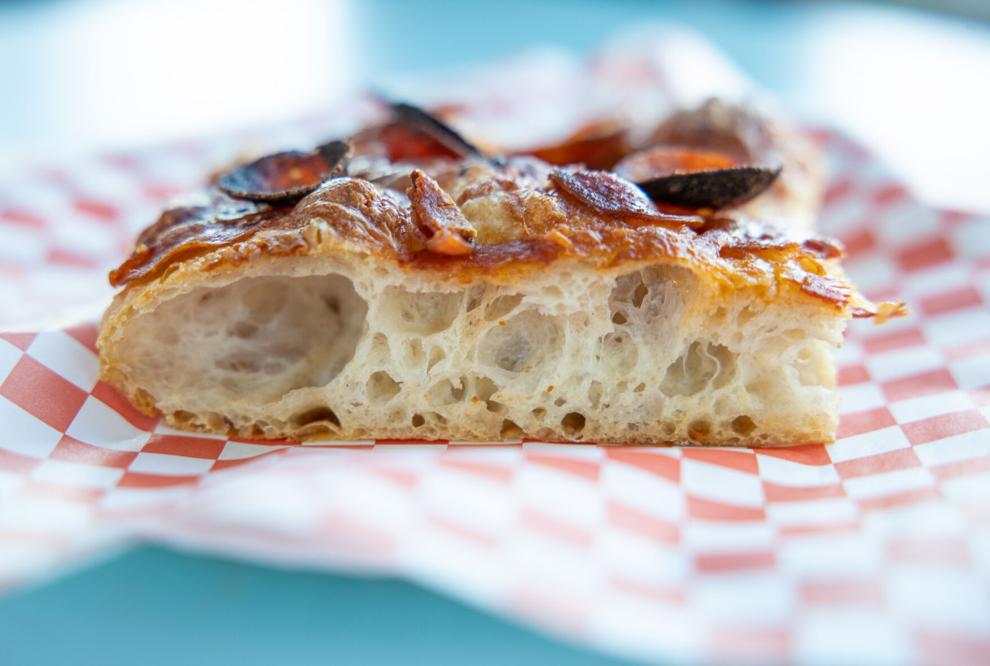 Topping options include Dogtown Double Down [pepperoni], Boardwalk [cheese], and two Monthly Flavors that rotate - Veggie [veggie/vegan option] and The Venice Way (chef's special).
"We noticed a void of where to get a simple, great slice of pizza in the neighborhood," said General Manager Derek Haug. "When we found out that 'pizza guy' Noel Brohner lived just a few blocks away, we immediately collaborated to design a dough and crust to complement our neighborhood slice shop with a style that L.A. and Venice have been missing."
The dough's secret is "high hydration," which uses equal parts flour and water to make the signature house dough incomparably light and airy. A three-to-four-day extra-slow fermentation process "ensures a flavorful dough reminiscent of sourdough with a deliciously sweet aroma."
"We went square because, well, 'it's hip to be square,' easier to share and fun to take on the run, skate, bike, post-surf!"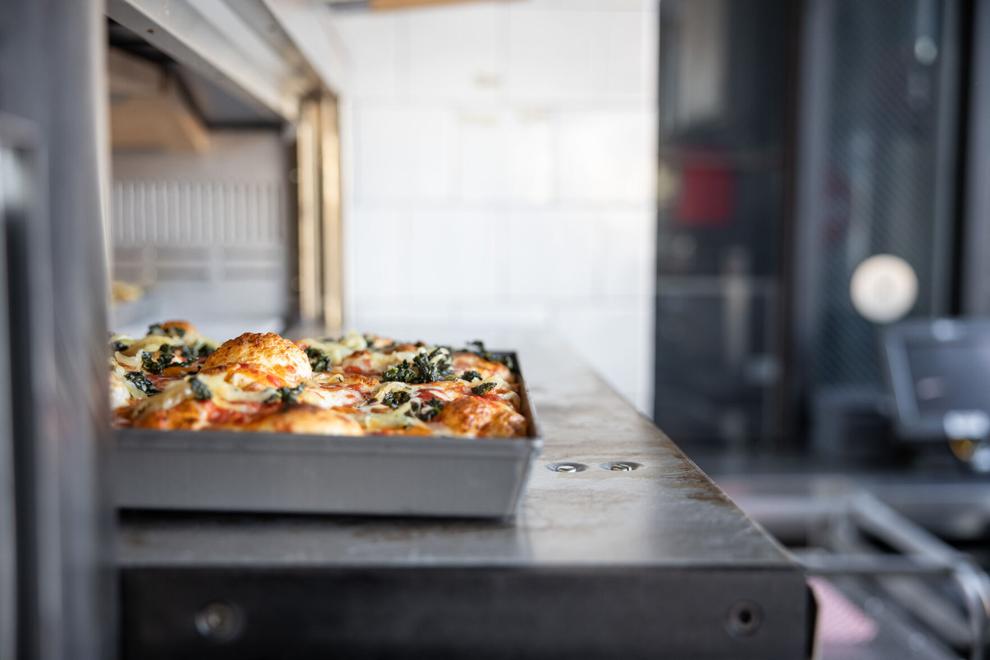 Also on the menu; salads and sandwiches. The Italian Sammie comes with house-made garlic focaccia bread, Genoa salami, pepperoni and pepper jack cheese. You can also order sticks and sauce, which comes with vegan tomato dipping sauce. 
Going Big and Go Home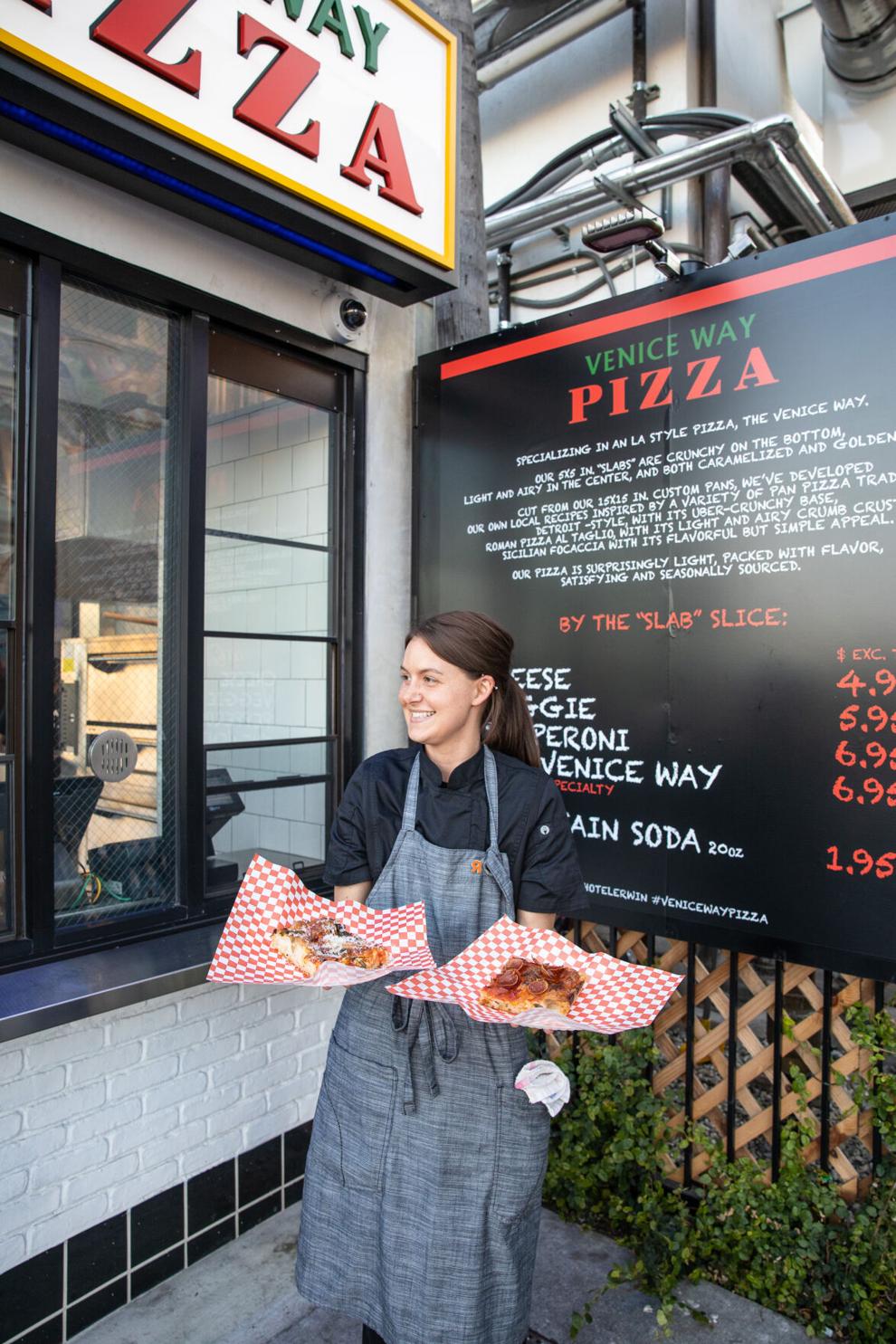 A family meal deal [kid tested, parent approved] includes two bottles of white or red wine and two whole cheese and pepperoni pizza pies. There's a pizza and beer combo on the lighter side, which includes any slice of pizza and a light beer. Customers also can choose from any three salads and a lunch combo that consists of a sandwich, chips and soda. 
"Whole pies are enough to feed a family of four or more! Nine slices of deliciousness and they great reheated the day after," said Chef Ashley Truman. "These pizzas can feed a crew!"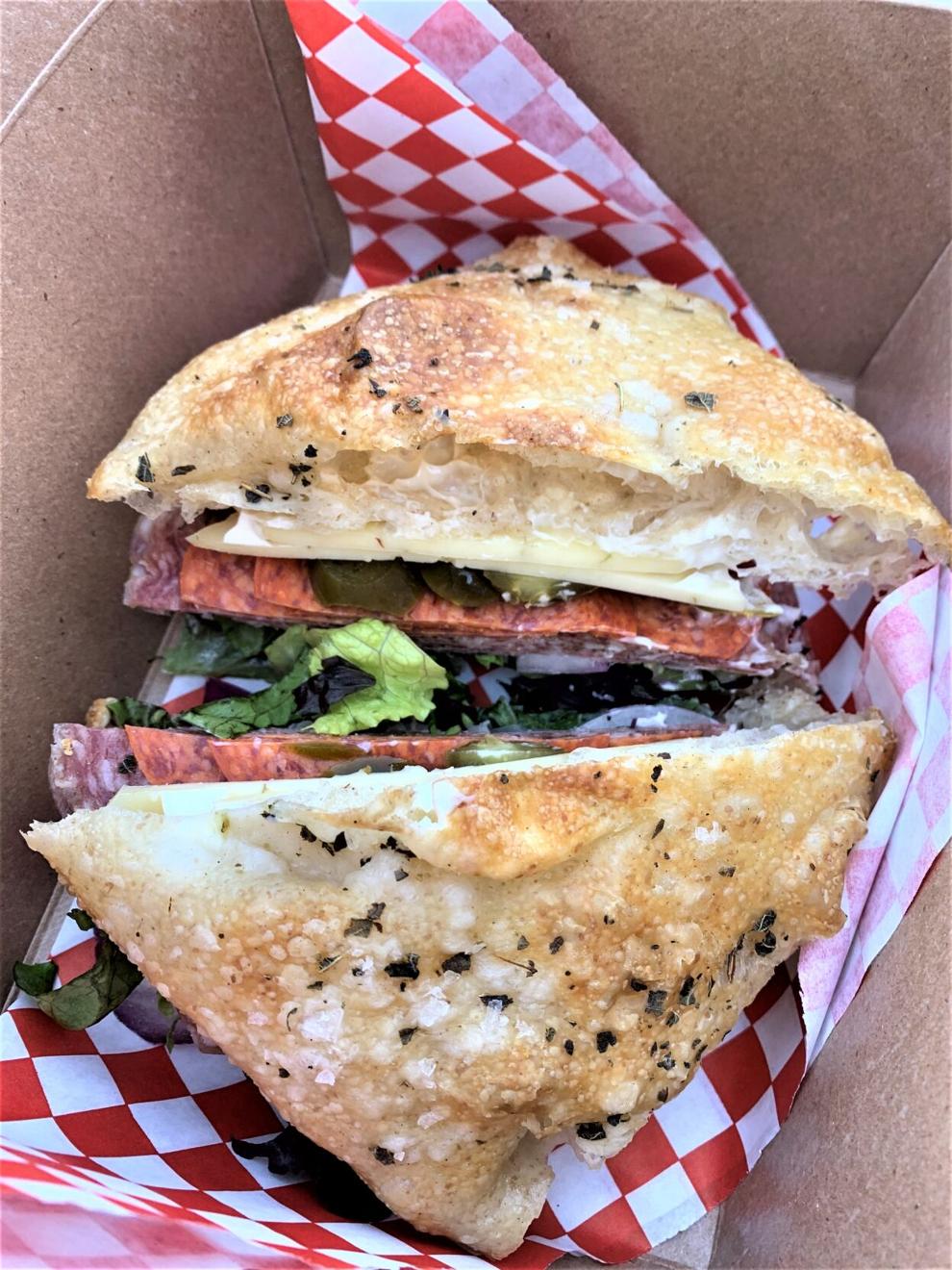 In conjunction with the hotel's new marketplace, Erwin's General, you can grab a couple of canned cocktails by Cutwater, pick up some great bottles of approachable wine. On the weekends, Breakfast Pizza and Bloody Marys are other neighborhood favorites that you can grab to go! 
The Secret's Out  
The best chefs and restaurateurs in Los Angeles and beyond have enlisted Noel to launch and fine-tune their artisan pizza and bread programs. Some of those include Chef Ori Menashe at Bestia, Chef Walter Manzke at Republique, Chef Jason Neroni at Rose Cafe, Chef Evan Funke at Felix and Chef Chad Colby at Antico. Noel is also an Associazione Pizzaioli Napoletani, USA Certified Pizzaiolo, the founder of Slow Rise Pizza Co., and a 30 plus year restaurant veteran. 
Come to Stay
Venice Way Pizza offers an open-air patio with casual seating. The restaurant says when the city enters the ORANGE tier (fingers crossed), a full bar service including a modern wine and beer list inspired by local trends will be offered. The pizza menu is incorporated throughout the hotel's menu offerings and into room service packages, the General Store and High Rooftop Lounge.
Where To Go
Head to the corner of Venice Way and Pacific Avenue. Customers can stop by or call ahead to place their to-go order. A convenient curbside pick-up is available. For hot, full-sized pies [Nine square slices] the restaurant suggests budgeting 30 minutes.  
 For more information, visit www.hotelerwin.com, call (310) 452-1111 or follow them on Facebook, and Instagram. Local discount for rates available use code' RETRO' for your pizza staycation!  
About Hotel Erwin
Never normal. Always Venice.
In 1975, Erwin Sokol created a fixture of the neighborhood and an embodiment of Venice itself. Today, Hotel Erwin is the choice for surf culture icons, interested business travelers and locals and families looking for an authentic and exciting Los Angeles experience. Remodeled in 2017 by Co-Mingle's Sally Breer, each of its 33 suites and 86 guest rooms recall a 70s bohemian vibe while bringing a modern sensibility to the hotel. 
Hotel Erwin's High Rooftop Lounge has no rival on the Westside for breathtaking views and rooftop debauchery.  
The High Rooftop Lounge is a staple for any visitor to Venice Beach with craft cocktails inspired by the Door's Music anthology and homage to Rip Cronk's 35 ft mural with Jim Morrison just to the South. It also has the only rooftop igloo in West L.A..  
 The hotel's lobby marketplace, Erwin's General, offers coffee, snacks, affordable wine and sundries by BYRD and other locally sourced contributors. Larry's Loft, named after art icon Larry Bell, provides ideal space for business meetings, movie screenings, and modern cocktail receptions. At the same time, the Red Bull Dogtown Suite hosts a private terrace overlooking the Pacific Ocean. 
Hotel Erwin continues its run as a landmark of counterculture and down-to-earth approachability with its landmark for seaside beauty, urban energy, and creative expression.