WESTSIDE -Most Angelenos have a common-sense vision of who affordable housing should serve: low-income families with children, the elderly, and people experiencing homelessness [often] with serious addiction/mental health issues. Propositions H and HHH define the three core groups as Family, Seniors and those with Special Needs.  
Common sense would also suggest that any proposed affordable housing units should be available for each key group across districts. 
However, an open-source dataset provided by the city indicates that affordable housing has a very narrow definition in Council District 11 (CD11). Specifically, 70 percent of the affordable housing projects in CD11 are being developed for special needs communities – the highest proportion of any district (and twice the district-wide average). In addition, 90 percent of CD11 projects include supportive housing (i.e., affordable housing plus services), which is [again] twice the district-wide average. Unfortunately, this focus leaves few affordable housing projects to serve the elderly or families of CD11.
Despite phrases like "Venice for All," affordable housing across CD11 is anything but "for all." 
Who stands to benefit
Many residents believe that we DO need more affordable housing on the Westside. But is this highly skewed focus on one group creating resistance to affordable housing in CD11 overall? One might argue that the higher prevalence of SN housing is because CD11 has a more significant share of homeless. However, the same can be said for families and seniors in need in our district. 
The following table illustrates the key differences in affordable housing development efforts across council districts in Los Angeles.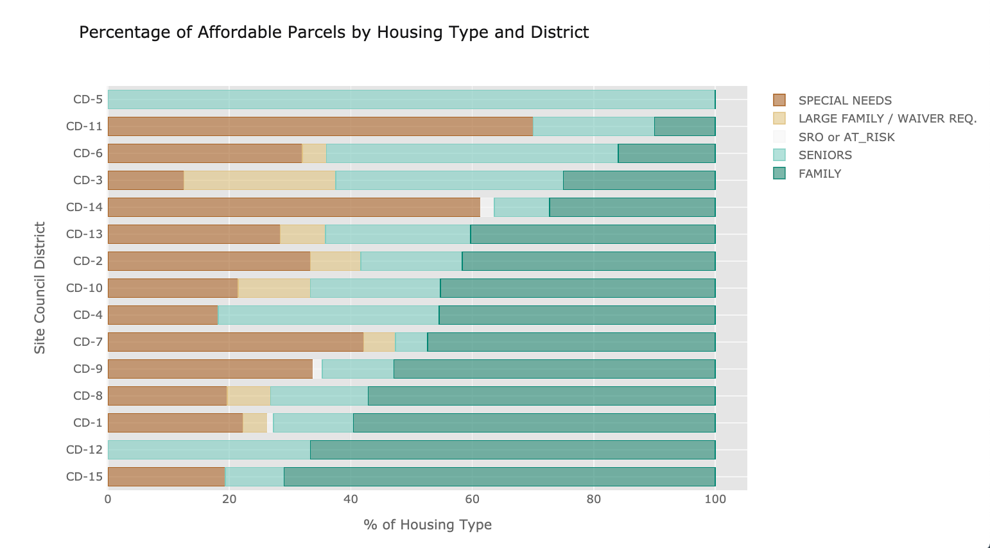 The chart suggests that other districts may have more success with building affordable housing because they build in a balanced way to serve multiple populations.  For example, in CD15 (San Pedro/Long Beach), 71 percent of affordable housing projects were constructed for families, while 20 percent were reserved for special needs. Council District 1 (San Fernando Valley and Northwest of Downtown) had the most significant number of affordable housing parcels approved for development since 2003 (nearly 100). Sixty percent of these were designated for families, 22 percent went to Special Needs and most of the remainder were for seniors. 
If history is any indication of the near future, CD11's new neighbors in affordable housing will not likely be the guy from the local fire station who needs to work closer to home. Nor the teacher who currently drives to the westside for work. It won't be given to your divorced sister raising three kids mainly on her own. It also won't go to your elderly neighbor whose social security is no longer enough to pay the rent. History tells us that in CD11, future affordable housing projects are most likely to be developed for people with substance abuse problems and mental illness--some of the most challenging neighbors to welcome because  their issues are often linked to an increase in crime.  
The chart below shows that 9 in 10 Affordable Housing parcels in CD11 have been designated for supportive housing services. This is more than double the average of 37% across all districts.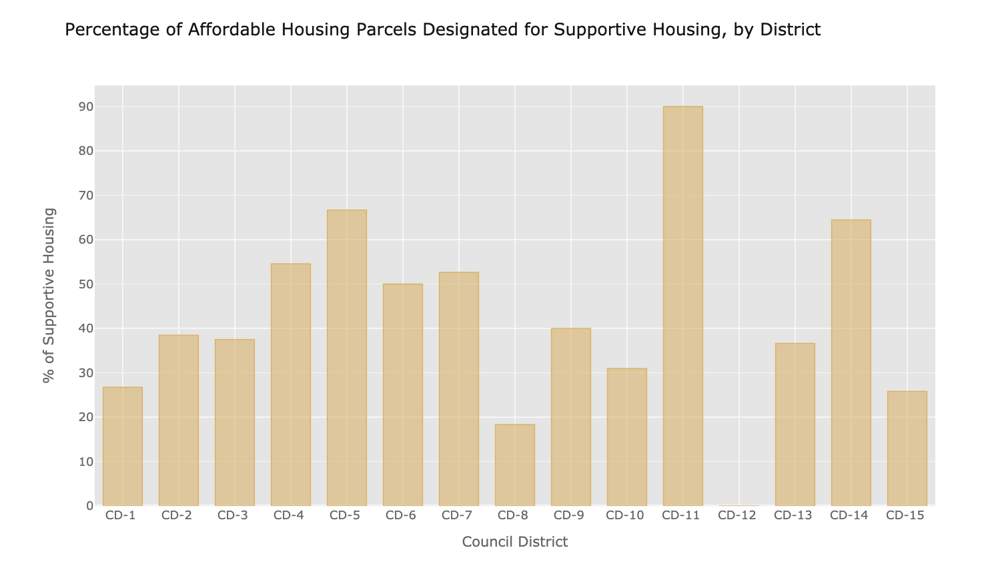 At what cost?
Next, let's consider the costs and funding. Affordable housing projects in CD11 cost more than similar projects in other districts. They produce fewer units per project. Yet CD11 receives a disproportionate amount of funding from the city to create units here:
CD11 ranks #1 in terms of cost per project unit ($512K vs. average of $315K)
CD11 ranks second to last in terms of the number of units produced per project
CD11 ranks first for average HCIDLA funding (approximately 6.5 million per project), and HCIDLA funding covers roughly 30% of the average CD11 project budget; most districts average 18%.
Why such an outsized skew for special needs, supportive housing and HCIDLA funding in CD11, particularly when the cost of building is so high in this area?  
The answer (long known by the people of Venice): social service organizations (e.g., St. Joseph Center, Venice Family Clinic, Venice Community Housing Corporation, etc.) want to concentrate their services near the beach.
If you build it they will come
For decades, the L.A. City Council has provided unwavering support for this goal. And "if you build it, they will come." The result is that most available public land parcels in CD11 are being used to support social services instead of supporting ordinary people who need more affordable homes closer to where they work (which would further reduce traffic). 
This map from Fight Back Venice offers a view of the city council's goals for providing social services in the small beach community. The services are so concentrated in one area that one might suspect that Venice has struck oil [again]!
Considering heavy opposition to the Reese Davidson Community in Venice, it's reasonable to suspect that resistance would not have been so fierce if this structure were designated for seniors, families and artists.
Of course, CD11 needs to help people with special needs. But should that be the only group we help? Can other council districts do more for these folks as well?
The result of CD11's singular focus on this one group is that it is likely creating resistance to affordable housing in general. It is also engendering a highly contentious relationship between neighborhood residents and City Council. 
By providing a sensible and balanced approach to affordable housing, the people of CD11 may be more likely to support City Council's efforts. Special Needs housing is essential, but it is not the only kind of affordable housing that CD11 requires.
Editor's note: The analysis in this article is based on data available through June 21, 2021.